Seven Tips for Safer Online Shopping This Holiday Season
---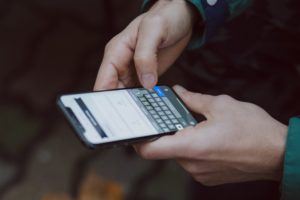 Black Friday is over, but the holiday shopping season is still very much in full swing. While we can all be grateful for the convenience that the internet has brought to gift-giving, the worldwide web can also be home to scams and security issues galore. However, by following these seven simple tips below you can avoid added holiday stress, and continue to enjoy shopping from the comfort of your couch.
Shop With Known and Trusted Retailers
If you're thinking of buying something from a website you've never used before, Google is your friend. Search the retailer's name plus "reviews," "scam" and/or "complaints" and make sure the company is legitimate, especially if you're hearing of it from an online ad or through social media. Suspicious links from unfamiliar websites could very well be "phishing" schemes, in which shoppers who click through are led to a false site developed to steal their data.
Check the Website's Security
Does the retailer's website have "https" in its URL? The "s" after "http" indicates that the webpage is secure. If you don't see that https or s small lock icon in the corner of your URL field, that means there is no privacy protection attached to these pages, so proceed with caution before providing your credit card information on these sites.
"App"ly Common Sense
The "do your research first" rule also applies before downloading any retailer apps to your smartphone. Make sure apps are downloaded from a trusted source, such as the Apple App Store or Play Store (previously known as Android Market), and read through the app's permissions to see if they seem fishy (for example, an app should not request access to your contacts list). Reading through the reviews on an app will also help you make an informed decision.
If It Looks Too Good to be True, It Probably Is
Sure, there are plenty of holiday deals out there, but if something is so highly discounted that it's practically free, chances are, it's not real. Check the prices of the same or similar items at other vendors to ensure that the item and the cost are legitimate.
Beware Public Wi-Fi
Shopping outside the home? Don't forget that Wi-Fi networks are public, which means hackers can easily intercept what you're looking at on the web and potentially steal your name and credit card information. Try to stick to a secure, known network when making a purchase.
Watch Out for Email Scams
Always check the sender's information before opening an email with any special offers or big alerts in the subject line. If the sender is unrecognizable, or is using the name of a known contact but with a different email address, do not open any links or attachments, and delete the email.
Use Your Credit Card
By using your credit card rather than a debit card for online purchases, you'll be better protected from any possible fraud. Should you be the victim of an illegitimate sale or of identity theft, you won't have to pay any fraudulent charges while your credit card company investigates the situation. Check your statements frequently to stay on top of transactions, and report any fraudulent activity immediately. You may also consider downloading an app such as CardValet®, which sends alerts when a card is used and when a transaction is approved, and allows you to turn your card off and on to control spending.
Ready to get cozy and keep clicking through that holiday shopping list? Stay vigilant, and you'll be on your way to an (almost) stress-free holiday season.