Savings Tips for College Students
---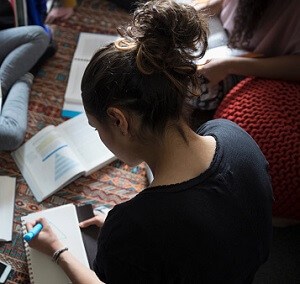 If you're a college student, you are experiencing many new things for the first time in your life. When you're living on your own and going to school full time, you may not have much time to work. As a result, your income will be relatively low while your expenses seem to be constantly increasing. With this in mind, saving money in college is no easy feat, and many students find themselves eating away at their savings rather than building it. If you find yourself struggling to save money as a college student, here are a few simple tricks that can help you turn your savings habits around.
Cut Unnecessary Spending
The easiest and most effective way to save money in college is to cut spending on things you want, but don't need. In this day and age, it's easier than ever to buy unnecessary things online and have them delivered to your door in just a few days, and many fall victim to it. If you want to focus on saving, try to avoid these costly habits. When you're surfing the internet and find yourself filling up your Amazon shopping cart, think before you purchase. Do you really need that new shirt? How often are you going to play this video game? Should you really be buying a bathing suit and sunglasses in the middle of December? If you can eliminate that unnecessary spending, you'll find that your savings account won't be getting drained, and your wallet will thank you.
Don't Eat Out
It's not easy, but a great way to save money is to limit how often you go out to eat. Many students like to go out to eat with their friends or order delivery so they can stay in and relax or study. That being said, going out to eat is expensive and there are alternatives that can save you lots of money. Take advantage of the dining halls, where your food is already paid for and you can eat as much as you want. You can even go with all your friends to hang out and get the benefits of going out to eat without the added cost. If you prefer to eat in your dorm or apartment and often find yourself ordering delivery, go to the grocery store and stock up on food instead. It's significantly cheaper than ordering out, and if you're not a good cook or don't have access to a kitchen, you can buy easy to prepare and nonperishable foods.
Keep an eye out for events that offer free food. On college campuses, there are tons of events that offer free food in order to draw students in. By attending these events, you can get free lunches pretty regularly. For example, at UNH, the university provides free food to everyone who comes to U-Day in the fall. Additionally, the Service Credit Union UNH branch provides free pizza every Friday during football season and you don't have to be a member to enjoy it, so stop by and get some free lunch on us! If you can cut back on how much you spend on food, you'll be amazed by just how much money you'll save.
Find Things to do for Free
People tend to get in the habit of thinking that to go out and do something fun, it is going to cost you some money. But on college campuses, there are loads of events and activities going on for students that are free.
Go on your college's website and there will likely be a page with all kinds of events and activities hosted for students. Colleges know that students are living on low incomes, so they try to put things on for students to have fun without spending money, such as movie showings, carnivals, and other activities. In addition, your college likely has a game room where you can shoot some pool or play video games with your friends, and tickets to sports games are typically free for students. No matter what your interests are, your college will have something fun for you to do that won't break the bank.
Take Advantage of Student Discounts
Doing things for free is great, but it's not always a feasible option and you'll find yourself going to places that will cost you some money. People often forget this, but tons of places offer student discounts, including restaurants, retail shops, museums, movie theaters, and much more. When you go out somewhere with your friends or by yourself, be sure to ask if they offer a student discount before paying. You'll be surprised to find that a lot of places you visit do, and it's an easy way to save yourself some cash. Usually, all you'll need to do to receive the discount is to show them your student ID, so if you're going out be sure to keep it on you. Student discounts are great because you don't need to fill out a survey or be a rewards member to receive the discount, you get it just for being a student.
Pick Up Extra Shifts
If you're working a part-time job while going to school, a great way to help build up your savings is by picking up extra shifts when you have free time. Once a semester is off and running, students tend to get into a routine and find places in the week when they have a lot of downtime. If you find yourself with a few hours periodically open on certain days, see if you can pick up an extra shift at work during that time. Even if you only have two to three hours, adding that to your schedule every week can help you pad that savings account.
Start Your Own Business
Picking up extra shifts is great, but sometimes you aren't able to work short shifts or there isn't one available for you to pick up. With that being said, starting your own business will allow you to make some extra cash whenever you have the time, giving you complete flexibility with your hours.
If you're well-versed in a particular subject, you could tutor people who are struggling. This is great because you not only help other students, but tutoring reinforces the topics in your mind, helping you do better, too. If you're a writer, you could do freelance editing. If you're artistic and crafty, you could start a business designing T-shirts, hats, and other merchandise. If you're a photographer, you might want to advertise photo shoots for students or events. There is an unlimited range of things you can do with your own business, so whatever it is that you are passionate about can be turned into a way for you to put some extra money in the bank.
Open a Student Checking Account
Most students already have a checking account, but switching to a student checking account is a great opportunity to save some money. Student checking accounts typically come with the same services as regular checking accounts provided by a financial institution, such as mobile apps, online deposit, and online banking, but they also offer additional benefits to help students. Two of the biggest benefits offered with most student checking accounts are no minimum balances and no monthly maintenance fees. These are beneficial for students because you don't have to stress about your balance getting low and pull money from your savings. With no monthly maintenance fees, students are able to save the money that would be getting pulled out by those fees.
At Service Credit Union, our student checking accounts offer all these benefits and more, including free checking until the age of 26 and access to over 30,000 surcharge-free ATMs! In addition, if you get a UNH debit card you are entitled to free popcorn at all UNH hockey games just by showing your card, helping you save money, and have a delicious snack for the game. Student checking accounts are a great way to save some extra money while in college.
Budget
All these tips are great ways to save money, but let's face it, nobody wants to eat in all the time or never buy anything that they want but don't need. By creating a budget, you can allow certain amounts of money for each of these things so that you can still have some spending money without diminishing your savings. Budgeting is easier said than done, and it can be difficult to keep track of how much you spent on what every month. Fortunately, there are apps that can do that for you.
There are many budgeting apps out there, but two great ones that are easy to use are EveryDollar and Mint. These apps help you by tracking your spending, so you can know where you are spending too much and cut back to meet your budget. If you are a Service Credit Union member, you have access to the MX Money Management Tool via online banking, which allows you to track your spending and set a budget. You can also create a budgeting worksheet, where you will enter your income and spending on a monthly basis. Write your money allotments down on the worksheet. This will give you an easy-to-follow system because you're able to see just how much money you have. You can look at an example of a budgeting worksheet here. By setting a monthly budget and sticking to it, you can moderate your spending and still be putting money in the bank.
Saving as a college student can be tricky, and spending your money fast is easier than ever. But with the right tools and mindset, it doesn't have to be hard. There's so much to do and experience on campus that won't cost you, and by setting a budget and sticking to it you can watch your savings grow throughout your college years rather than disappear.