October Is National #TacklingHungerMonth!
---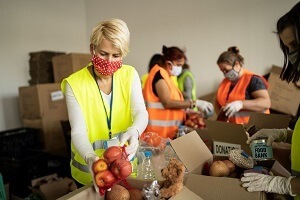 Fresh off September's "Hunger Action Month," each October "Tackling Hunger Month" is observed nationally. You may not even realize that your friends, neighbors and community members struggle with food insecurity, but hunger continues to affect people in our country. Feeding America projects that 42 million people (1 in 8), including 13 million children (1 in 6), may experience food insecurity in 2021. Before the start of the pandemic, the overall food insecurity rate had reached its lowest point since measuring began in the 1990s, but those improvements have since been upended due to the impacts of the pandemic. It is more important than ever to support our communities.
In support of "Hunger Action Month" and "Tackling Hunger Month," Service CU has donated to 30 different food pantries across New Hampshire to help support our friends and neighbors as we head into the holidays.
Supporting the communities we serve is a vital part of our credit union's mission and we are proud and honored to do so. The NH Food Bank estimates for every dollar donated, two meals can be provided to a person in need. In total, the credit union's donation will provide approximately 74,000 meals.
Check out the list below of the food pantries the credit union supported.
Bedford Community Food Pantry
Bridge House
CAP Belknap-Merrimack Counties
Community Cupboard Food Pantry
Community Food Pantry
Epping Community Care
Falmouth Service Center
Families in Transition
Feeding Hope Food Pantry
First Baptist Church Community Food Pantry
Food for the Hungry Food Pantry
Friends of Forgotten Children
GATHER
Greenland Food Pantry
Groundworks Collaborative
Hampton Community Coalition
Hudson Community Food Pantry
Listen Center Food Pantry
Nashua Soup Kitchen
Northlands Rescue Mission
Operation Blessing of NH
Seacoast Community Lunch
Southern NH Services
Society of St. Vincent De Paul Exeter
The Community Kitchen
Tri-County Community Action Program
Twin Rivers Interfaith Food Pantry
Upper Valley Haven
Waysmeet Food Pantry
We Care Food Pantry
Below are two simple ways you can help your community that won't take much of your time or money.
Become a regular food bank or food pantry volunteer
According to Feeding America, 51% of all food programs rely entirely on volunteers. Getting involved is easy and there are countless ways to volunteer. You can keep the shelves stocked by assembling boxes of food for distribution. Or, you could assist at mobile pantries, drive-thru pantries, and contactless meal delivery. You can even volunteer from home! Some food banks have moved their volunteer shifts online and are asking volunteers to help fundraise or spread awareness.
Fundraise
Invite your friends and family to join in the fight to end hunger by donating to your local food bank. Fundraisers are simple to set up through GoFundMe or even Facebook.
Volunteers help where the need is greatest so check with your local food bank about what opportunities are available. If you or someone in your life is experiencing food insecurity, please visit https://www.feedingamerica.org/find-your-local-foodbank.