Can You Spot a Fake Email?
---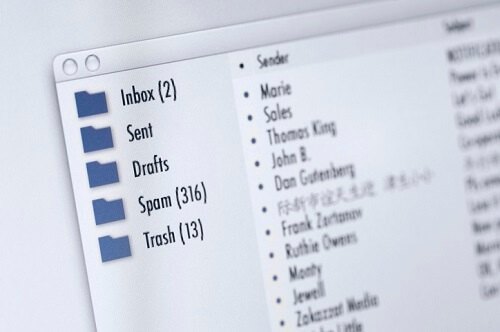 In our fast moving, technology-driven world, there are countless luxuries we as consumers are able to take advantage of – things like contactless payments, glasses that act as headphones and virtual reality headsets. But, as fast as our world is advancing, cyber criminals are advancing equally as quickly. And, well, it can be difficult to keep track of all of the tricks they have up their sleeves. That's why it's more important than ever to protect your personal information online.
According to Mimecast's State of Email Security 2020, 58% of organizations saw phishing attacks increase in the last year.
You are probably thinking, "I know how to spot a phish-y email." But, despite how much we think we know about scam emails, people still frequently fall victim to them.
Phishing emails are virtual email attacks where scammers try to get your personal information. Learning how to spot a phishing attempt is the first step in keeping your information safe.
Clue 1: Email Domain
Check the email domain. Is the email coming from, "@gmail.com" or "@servicecu.org?" Legitimate businesses send email communications through their own email domain. Check the words that come after the "@" symbol. Scam artists can get very tricky with domain names, because they are quite easy to purchase online. A good clue to look for when checking the domain is whether or not everything is spelled correctly. It's easy to quickly roll your eyes across something that may look familiar, but is actually a scam and may unintentionally release valuable personal information in the process.
Clue 2: Spelling and Grammar
Now, let's move down to the body of the email. Often, an email scam contains poor spelling and grammar. This is because scammers use simple online translators to translate their emails into multiple languages. But if we learned anything from high school French class, it's that these online translators often make grammatical errors when they translate. Phishing emails often include misspellings and tense issues. When you are reviewing messages, keep this in the back of your mind and ask yourself, "Does this person or organization typically sound this way via email?"
Clue 3: Tone
When you are reviewing for spelling and grammar issues, you will also want to pay attention to tone. Phishing emails often try to instill a sense of urgency in the reader, causing them to take action without taking time to review the details. For example, you may receive an email on one of the following subjects: a data breach of your information, a fundraising campaign in which people are "suffering" or even an urgent task for your job. There are many subjects that elicit emotional responses from email recipients. Hackers know this and will use email subjects that will spur targets to take action without stopping to inspect or investigate the emails properly.
Clue 4: Links and Attachments
The final characteristics of a fake email to look out for are attachments and links to unexpected websites. Oftentimes these attachments or links are disguised through names that feel common, such as Amazon.com or even "important project details." However, these attachments and websites will redirect to an unknown website which could potentially download malware and retrieve your personal information. It is best never to click on or open links or attachments if you are suspicious about an email.
If you are ever in doubt as to the legitimacy of an email, please do not hesitate to contact us at 800.936.7730 (U.S.) or 00800.4728.2000 (Int'l). You may also complete this form in our Security Center to report any suspicious activity. Your privacy is our top priority.