Get Your Money in Holiday Mode
---
The following information is provided by our partners at GreenPath Financial Wellness. If you're a Service CU member looking for free, personalized help when it comes to debt management, contact GreenPath for a consultation today.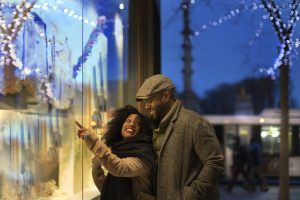 After a year full of twists and turns, many Americans are understandably looking forward to the holiday season.
This year, many Americans may find they are dealing with financial setbacks such as a loss of employment, reduced income, or other unanticipated expenses that may make it more difficult to avoid having holiday debt follow them into the new year.
Here are some tips designed to give you less stress and more joy this holiday season:
Set a Holiday Spending Limit
During the holidays, it can be easy to let spending get out of control. Put a cap on your spending by creating a holiday budget /spending plan.
Write down a holiday budget that includes all planned spending – food, décor, travel, gifts, etc. This can help you see how much income you'll need, set spend limits, and relieve uncertainty and financial stress. Even the most basic holiday spending plan can help you limit impulse purchases.
Get a Handle on Existing Debt
The number one rule for financial wellness? Avoid spending money you don't have. While it's easy to do, putting holiday spending on credit cards can be risky if you don't have the funds to pay it off when the bill comes due.
According to a recent survey, Americans racked up an average of $1,325 in holiday debt. Of those surveyed, 75% said they wouldn't be able to pay it off in January, with 15% saying they only intended to pay the minimum monthly payment. In case you're wondering, that translates to over $600 in interest and 5 years of making payments—ouch!
Some tips to reduce the stress of debt include knowing how much you owe. Before the holiday events kick in, write down the total amount of all your debts, monthly payments, interest rates and due dates.
GreenPath can work with your creditors to bring your accounts current, lower interest rates, and eliminate fees. This way, more of your payment goes toward reducing your account balance and you save money on interest.
Trade Pricey for Priceless
This year, consider simplifying celebrations and find alternative ways to revel in the season. Resist the urge to splurge on decorating and large parties and choose to gather with family and friends without breaking your budget. As gas and grocery prices are expected to increase, rethink the elaborate (and costly) holiday dinner and invite your loved ones to "meet in the middle" for a more informal get-together.
In lieu of hard-to-get items, gift an experience, a family portrait or an online class. Consider opening a 529 savings plan for the kids – the gift that gives long-term.
You can also celebrate those you love by giving back. Volunteer at a friend or loved one's favorite charity or provide a contribution on their behalf. Gift some elbow grease at a local Meals-on-Wheels, community center, humane society, or nonprofit organization that could use your help.
Keep Your Personal Info Safe
The holiday season is a time when people are more vulnerable to identity theft scams. Not only are they making more purchases than at any other time of year, but they are often distracted when doing so.
According a recent Experian study, as much as 43% of holiday shopping identity theft occurs online. As more and more shopping moves to the internet, it's important to be aware of the best ways to protect yourself from identity theft:
Stay up-to-date with online scams
Use strong account passwords
Monitor your credit report
For more information on staying safe online, check out Service Credit Union's Security Center.
Financial Resources
If you are caught up in the holiday frenzy, and you are stressed about overspending, we are here to help. Call us 24/7 at 800.936.7730 (U.S.) or 00800.4728.2000 (Int'l) or contact us via Live Chat to discuss products and services tailored to your financial needs.
In addition, GreenPath, a national nonprofit focused on financial wellness for all, is a partner of Service Credit Union. For 60 years, they have guided individuals and families through financial crises, overwhelming debt, foreclosure, bankruptcy, and credit challenges. To speak with a counselor, call 877.337.3399.