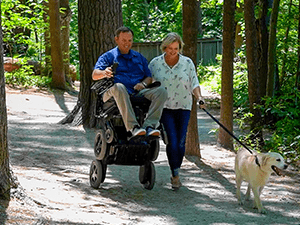 In March of 2022, Service Credit Union teamed up with Mobius Mobility to create a financing option for their iBOT® Personal Mobility Device (PMD). The iBOT® is a revolutionary mobility device that allows its users to rise to standing height so that they may be eye level with the world around them. It also works on a variety of terrains, including sand, snow and gravel, and can navigate curbs and climb stairs.
This first of its kind loan was created to make the device, which carries a high upfront cost typically not covered by insurance, more financially accessible.
If you are one of the many Americans that relies on a wheelchair, or have a loved one who does, you may be wondering how the iBOT® loan works.
A standard iBOT® starts at just over $31,000 and may go up by several thousand dollars depending on seating requirements and other customization, making the monthly loan payment similar to that of a new car. However, unlike other loans, the iBOT® loan does not require any down payment, and is available to applicants who may have poor or no credit history. Due to the nature of the loan, both Service CU and iBOT® manufacturer Mobius Mobility will work closely with applicants throughout the process to ensure anyone who would like to fund an iBOT® will be able to do so. This includes reaching out to nonprofits for additional financial assistance if needed.
The iBOT® loan is available to anyone who is prescription eligible as determined by their physician. Physical requirements for using an iBOT® include having sufficient motor skills to use a joystick and activate buttons on a user controller, as well as the ability to maintain a consistent seating posture.
While the iBOT® PMD is not covered by all insurance sources, those interested in the device should check with their insurance company to see if they will provide coverage. In some cases, users may receive insurance reimbursement after paying out of pocket (including funding an iBOT® loan).
Individuals interested in the iBOT® are asked to first reach out to Mobius Mobility to ensure they are eligible for the device. Upon confirming general eligibility for safe use of the device, the individual must confirm they have sufficient funding. For those who cannot make the full payment with insurance or personal funds, this is when the option of applying for an iBOT® loan comes in to supplement funding.
Once the source of funding for the PMD is confirmed, prospective users must receive a prescription from their doctor, after which they will be fitted for their seat. Upon being fit for a seat, the iBOT® user will receive their custom quote for the device. This custom quote is what will be used to determine the amount of funding from Service Credit Union. The lending team at Service CU will personally work with all individuals interested in an iBOT® loan to create a lending plan that makes sense for them, with loan terms up to 72 months.
Once financing is complete, it will take approximately 45 to 60 days to complete the order of the device. All users must undergo personal mobility device training, either on site at Mobius' facility in Manchester, New Hampshire, or by having a Mobius team member fly out to them. If needed, travel costs can be wrapped into iBOT® loan financing.
The iBOT® is the brainchild of inventor Dean Kamen, who recognized how traditional wheelchairs not only limit their users physically, but also socially and emotionally by keeping them at a lower height than those around them. Unlike a traditional wheelchair, the device not only helps bring users a sense of normalcy, but independence and dignity.
Ready to apply for an iBOT® loan? Get started.