How to Build and Maintain a Team
---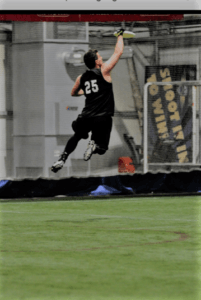 Whether you are putting together a team for work, sports, or school, there are crucial building blocks to assembling the right group. It doesn't matter if your group consists of three people or thirty; it's all how you construct it that builds the strength of the team. In my own life, I'm most proud of the success of my Ultimate Frisbee team. While you might be looking for tips on building your marketing team, volunteer board, or some other athletic league, I believe the lessons I learned in my 10 years in the sport can be applied to any group effort.
Create a common goal and vision
The first thing any team needs is a group of committed people with a common goal and purpose. In my case, it was nine people with the same desire: to field a team that would compete against the best of the best in the club division. This goal would also amplify our team vision statement and our team name. We wanted to focus our name on the state of New Hampshire, where all of us were from. So we decided on "Face Off" as an ode to the Old Man of the Mountain, a state emblem in NH. Depending on your team, your vision statement might look a little different.
Once you've established your goal, talk about how you'll achieve it. Do a competitor analysis of similar groups, and look at what caused some to succeed, and others to fail. Take the common elements of the successful teams, and put them in your vision plan.
Select leadership roles
Click here to learn more about a leading author on corporate sustainability Jim Collins, a leading author on corporate sustainability, writes, "Get the right people in the right seats on the bus." With a vision to rally around, it was time to assign roles. We elected captains and set duties for those in our leadership group. We looked for people with leadership traits such as great organizational skills, relevant past experience, or a drive to achieve a greater goal such as saving money or getting the best quality item for the team. Each person had homework and goals to achieve by certain dates, and everyone volunteered for what they felt qualified.
On your team, you should look for similar characteristics: leadership skills, organization, good time management, and past experience in whatever you need to fill your roles. In our case, those who had experience balancing budgets were named treasurer. Those who had planning experience were in charge of hotels and accommodations.
Recruit quality players
So now we had our foundation and we needed to work on getting players to try out. Our leadership group rallied behind our vision statement and hit the pavement to attract new and fruitful players of all shapes and sizes. Our goal was to recruit quality players but also those people we knew we could work with. We used social media to encourage people to try out for the team, gave them our vision, and talked openly about how the team was to be run. We had the luxury of knowing most people who came to the try-out; however, in your situation, you may not. Make sure to vet your prospective teammates by asking meaningful questions, such as their goals and ambition, rather than generic interview questions.
Figure out the logistics
From scheduling to budgeting, you'll want to meet regularly with your team to make sure you are on track to reaching your goals. Believe it or not, our ultimate team had its own logistics team, which handled the long trips to and from fields and organized hotels and carpools. We also had captains wrangling players and managing practices. We had a treasurer who tracked every dollar in and out of our account and gave updates as to our financial readiness. While your own financial needs may vary greatly, tracking money is going to keep your team current and honest. Your team should have a budget for anything and everything, and make sure the leadership group weighs in on it. Then, make sure to relay that information to the team so all are on the same page.
Our leadership group hosted internal meetings with just our core and hosted team meetings to assess the well-being of players and where we could make adjustments. This maintained the team throughout the year. It created solid channels of communications and open contact between players and captains.
Whether you are a member of a rec league team, a business group, or a teacher, knowing how to build a team is essential to the success of your organization. Have a vision statement and follow it, rally people around that statement, and put the right people in the right seats. If you do this, you will build the foundations of a good team and make it last.