How to Transition Your Children From Magic Receivers to Magic Makers at the Holidays
---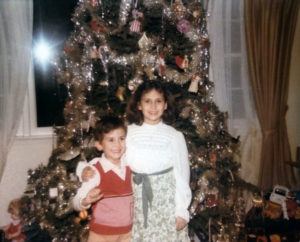 I wake from sleep, just a little. A wave of recognition rolls through my body like a swarm of electric butterflies. "SANTA CLAUS CAME!" I climb out of bed and run into my little brother's room. "RJ! SANTA CLAUS CAME! SANTA CLAUS CAME!" He springs to the ground and together we thunder down the blue shag carpet of our split-level home in New Jersey into the living room, and flip on the light. Holy rum balls. Santa has brought our Christmas tree and it lights up the room like a supernova exploding with magic. The little white lights are so bright and glisten off the cream tinsel garland. Now to see what is under it. I see a record player and a "Grease" album, yes! My brother exclaims: "I got a Millennium Falcon!" I think to myself that Santa must have just left because I can still smell his cigarette smoke. It is December 25, 1978, and it is 2:30 a.m.
Flash forward 40 years, Santa knows much better than to smoke, and my family prefers to cut our tree down ourselves. But, the past 10 years have had many similarly exciting Christmas mornings with my two daughters anticipating the arrival of Santa (although they are not allowed to get out of bed until they see the sun at least starting to rise). Now that my girls are a teen and tween, we are enjoying our first Christmas where the entire family has shifted from being what I call a magic receiver, to a magic maker.
While they're no longer waiting around for Santa on Christmas Eve, that doesn't mean they can't get joy out of creating joy for others. After all, that's what the spirit of the season is really about. One great way to make this transition easier is to involve your child or a group of your child's friends in giving back and performing random acts of kindness. Here are some ideas for your big kids.
Create care packages for elder relatives living alone. To emphasize the joy of giving and selecting just the right gifts for a loved one, my daughters and I spent some time creating a care package for an aunt who is recently widowed and living alone. We created easy do-it-yourself snowman pins from Oriental Trading Company and a photograph of the family at Santa's Village in a handmade frame. We included some candy and tea. When our aunt called the girls to thank them for their thoughtfulness, they beamed with delight, and I pointed out how good it felt giving gifts, and how much fun it would be to shop for Christmas gifts with them this year.
Give a Salvation Army Angel Tree Gift. The Salvation Army's Angel Tree program provides new clothing and toys for children of families in need through the support of donors. Found in local malls, companies, and churches, Angel Trees are decorated with numbered paper angel tags with the first name, age and gender of a child in need of gifts. Check with your local

Click here to visit the

Salvation Army

website

website for families and individuals with holiday wishes you can make come true.
Participate in Toys for Tots drives. Check toysfortots.org for local businesses hosting a donation box, or check with local radio stations for events they are sponsoring. The radio station DJs do a wonderful job of making kids feel extra special about their donations.
Donate toys and books. In addition to Toys for Tots, the Salvation Army and

Click here to visit the

Goodwill

website

gladly accept toys and books which they sell to families who shop there. In turn, this raises money that goes back into those charities. Local children services providers may also have gently used books or toys on their wish lists. Or, simply visit Donationtown.org to schedule a free pickup at your house for toys or other non-cash items you might like to donate.
Donate stuffies. Send gently used, washed stuffed animals to Stuffed Animals for Emergencies. They currently have four chapters in the United States who work with children's homes as well as emergency situations such as natural disasters. You can learn more about them at stuffedanimalsforemergencies.org.
Drop off a food donation. Local food pantries and kitchens would always welcome a donation, and many local businesses participate in these during the holiday season as well.
Bake cookies for a neighbor. Perhaps you know an elderly couple in your neighborhood who might enjoy a surprise.
Vote as a family for the best-decorated house on your street and have the kids write them a note.
Pay for someone's layaway. Local Walmarts or other big box stores may have families who have put toys away on layaway. Bring your child to put down some money to help a family in your own community – it can be as little as $10.
Donate to or volunteer at a local pet shelter. Shelters welcome visits by children with donations of food, toys, and other necessities. Check local websites for specific needs. Often they will let you, children, the animals in their care or even take a dog for a walk (as long as a parent accompanies them.)
Make a random act of kindness chart. Instead of an advent calendar, consider making a calendar of acts of kindness your child might enjoy. From a surprise call to Grandma to surprising a friend at school with a holiday pen or pencil, these acts leave a long-lasting good feeling.
By teaching your child to give back during the holidays, you can start a new family tradition while also helping your community. Plus, your child will value the important and joyful role of giving, aka magic-making. The idea is to change it up a little and underscore what we have to look forward to every year as magic-makers. We found we eclipsed some things my girls might have overly prioritized before. Whatever your traditions, enjoy them. And, have a safe and joyful season.