Tips to Find Your Perfect Apartment
---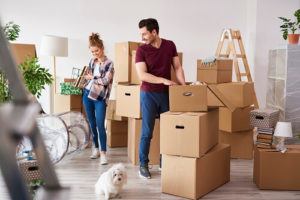 Wow. You are about to start your next adventure: finding your own place. Living independently is a huge milestone (even if you're not living alone), so make sure you take all of the right steps before diving in and signing a lease.
Set your budget
Know your budget before you begin looking at apartments. While everyone's budget varies, the general rule of thumb is that it's best to spend no more than 30% of your monthly gross income on rent and utilities combined. This allows you to budget for other expenses, such as groceries and loan payments, as well as save for your future. With this being said, if you haven't already, it's a good idea to sit down and write out all of your expenses and what you would like to save each month, especially if you are going to be living with a roommate or partner. Be upfront about what each of you can realistically afford.
Technology is your friend
In today's world, technology allows us to all but feel if the apartment we like has running water. Apps and websites such as Zillow, apartment.com, Trulia, Zumper, Craigslist, and more offer you information on available apartments based on the criteria you choose. You can narrow your search by price, size, or even the option to have a pet. Set up alerts on your phone to see when new apartments become available. But, please remember just because it looks great on your screen, doesn't mean you shouldn't go check it out in person.
Open every door
When hunting for your next home, assume the worst and get the best. Look in every crack and crevasse you can find. Open the apartment's pantries, doors, cabinets, turn on the sink and shower, and the heat or AC system. Confirm that everything is as it should be before signing on the dotted line. Don't be afraid to ask questions. Chances are that if the landlord wants new tenants, they will be upfront about answering your questions and addressing problems. It's absolutely OK to walk away if something doesn't seem right.
Be prepared
You may be asking yourself, "Do I need renters' insurance?" It's never a bad idea to look into it. In fact, some apartments require this so you will want to be sure and ask upfront. Renters' insurance protects your personal possessions and also provides you liability protection in the event that someone gets hurt at your place. Your landlord should carry insurance that protects your building in the event of a fire or other catastrophe. Also, if your apartment is in a flood zone, you may want to consider separate flood insurance.
Visit places at night
Your favorite apartment during the day could look completely different at night. Grab your roommate(s), or, if you're planning on living alone, ask a friend to tour the apartment and neighborhood with you at night. Be sure that it is a place that you would feel comfortable walking around alone in the dark. Are there new issues you are noticing, now that you are less excited about all of the sun streaming through the windows?
Calculate your commute
Moving your entire world to a new location affects other aspects of your life. Changing your home base will change the distance between you and your friends, family, and, of course, job. You will want to be sure to do your research and check how your route to all of these places will change. Don't forget to factor in traffic and the time of day you will be traveling.
Read the lease, twice
Read twice, sign once. When in doubt, get another set of eyes to look over the terms of your lease. This is a binding contract that you are about to sign. Be sure to understand what the parameters are. Can you sublet? Are there quiet hours? Can you have a pet? Are you responsible for snow removal? Can you hang things on the walls? If you don't have much of a credit history, be prepared to possibly need a cosigner, such as a parent, on the lease. There are so many questions to ask. If you don't agree with something or have a question, reach out to your landlord before signing. You don't want to be surprised by any of the above answers when you are already three months into your lease.
Finding for your new place should be, not only fun but also rewarding. Congratulations on your big move and happy decorating!