Financial Life Hacks for Living in Germany
---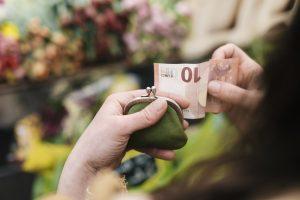 At Service Credit Union, we serve members all over the world, including thousands of U.S. military members on Army and Air Force bases in Germany. If you've recently relocated to Germany or are scheduled to, we're here with some financial hacks to help make the transition smoother.
Hack 1 – Give yourself some breathing space
When calculating how much a foreign currency debit will be in USD, add a buffer to your estimates. If the actual debit ends up being lower than your buffer, stash the extra money in a special savings account. This account can act as a safety net, protecting you from unexpected drops in exchange rates.
Hack 2 – ATM trickery
Don't fall into the trap of paying more than necessary when using off-post ATMs. These sneaky machines might offer to convert the foreign currency into USD for you, but beware! Their rates are often unfavorable compared to your cardholder's exchange rate or even the DoD Rate. Instead, opt to continue the transaction in the local currency and let your card handle the conversion.
Hack 3 – Smart shopping with cards
The same rule applies when using your debit or credit card for off-post purchases. The merchant's card processor may tempt you with the choice of paying in the local currency or USD. Don't be fooled! Opting for USD will likely subject you to an unfavorable retail rate. Stick to the local currency to get closer to the actual exchange rate you see on Google.
Hack 4 – Stay in the know
Wondering about euro exchange rates? We've got you covered! Sign up for our daily email updates on euro Rates directly from our website. While you're there, check out the rates for other international bill pay currencies as well.
Hack 5 – Hold onto your euros
When depositing euros back into your account, be aware that they are converted at a less favorable reconversion rate compared to the "accommodation" rate used for withdrawals. To maximize your money, it's best to keep euros in cash and spend them in the local economy.
Hack 6 – Mind those expiration dates
Stay ahead of the game by keeping track of passport expiration dates. This is crucial, especially when traveling for leisure, as different countries have varying passport validity requirements. It's an expensive mistake to be denied travel at the airport due to passport expiration issues. Also, don't forget to check for any visa or additional documentation requirements well in advance of your travel dates.
Hack 7 – Plan like a pro
Traveling and exploring new places is a blast, but it can also burn a hole in your wallet if you're not careful. Before your trip, invest some time in research and create an itinerary that aligns with your budget. This way, you'll have a well-planned adventure with activities you've already budgeted for.
Hack 8 – Supercharge Your Financial Wellness
Discover our go-to financial wellness resources! Get ready to unlock a wealth of resources and services designed to boost your financial well-being. Explore everything from personalized 1:1 financial counseling services, provided by our partners at GreenPath Financial Wellness, to registration opportunities for financial wellness webinars and seminars. Don't forget to check out our partnership with The Money Mammals, offering exciting financial wellness programs for the whole family. Take charge of your financial journey and visit our website for a treasure trove of tools and guidance.
Hack 9 – Bye-Bye Fees
Don't let foreign transaction fees, international service assessment, or ATM surcharge gees ruin your overseas adventures! When using credit and debit cards abroad, choose a financial institution that has your back. Look for one that reimburses or waives those fees, ensuring your money stays right where it belongs – in your pocket. Say farewell to unnecessary charges and embrace smart savings.
Looking for more tips and tricks to life abroad? Check out more articles on our Good Cents blog, and make sure to follow us on Facebook and Instagram!