How to Find the Right Real Estate Professional for You
---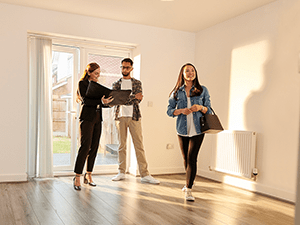 Is finding a real estate agent on your to-do list this summer? Hiring a professional real estate agent can help you make smarter decisions and avoid expensive mistakes. Whether you're buying or selling, follow our tips below to ensure you choose the best one:
Get to know them
A good agent will take the time to understand your goals and priorities. Which means, if you are buying, they won't waste time on properties that don't meet your criteria. If you are selling, they will know exactly at what price you need to list your home and how to protect your best interests.
Think about what's most important to you, be clear with your expectations upfront and make sure your agent is comfortable meeting them. Make sure to ask questions such as what hours they're available for showings, their preferred methods of communication, and when they're available to answer questions.
Make sure they're the right personality fit
An agent who did wonders selling your friend's home may not necessarily be the right agent for you. Make sure to interview a few real estate agents before choosing the right one to work with to make sure they click with your personality. Do they listen? Do they seem honest and not pushy? While hopefully a happy experience, buying or selling real estate is also laden with emotions, and you'll want someone you can rely on, especially if you run into any problems.
Do background research
Not every real estate agent is a Realtor. Realtors are licensed agents who are members of the National Association of Realtors.
All real estate agents must be licensed in the states where they work and abide by national and state laws. Check with your state's real estate commission website to find out if a particular agent is licensed. Additionally, a broker, as compared to an agent, has gone a step beyond agent level with additional training. A broker can oversee other real estate agents, work under a managing broker or operate independently.
Leverage technology, and choose an agent who rewards
Service Credit Union offers free access to the HomeAdvantage® program and its network of experienced, hand-picked real estate agents. When you use one of these agents to buy or sell (or both), you qualify for Cash Rewards* equal to 20% of the agent's commission.
In today's fast-moving market, more than ever you'll want a professional to ensure your home buying or selling experience is a good one. Connect with one of our trusted HomeAdvantage agents today by visiting us online.
*HomeAdvantage is available to you through your membership with Service Credit Union. Cash Rewards are available to members who register to use HomeAdvantage and who use a real estate agent in the HomeAdvantage network to buy or sell their home. Using Service Credit Union for a mortgage is not a requirement to earn Cash Rewards. Cash Rewards amounts are dependent on the commissions paid to the agent. Cash rewards earned are paid out directly by HomeAdvantage after closing. Service Credit Union has no direct involvement in this process. Cash Rewards are void where prohibited by law or the lender. Please consult with your credit union to get details that may affect you.