7 Good Ways to Use a Tax Return
---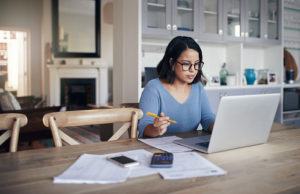 Nearly 80% of U.S. tax filers will start receiving their income tax refund checks in the coming weeks and while there are plenty who will recommend you adjust your withholding amount so that it becomes part of your regular pay, let's say for whatever reason you forgot or just prefer getting that check every year. It's easy to get excited when those extra dollar signs show up in your account and find a few months later you have no idea where it all went, but with a good plan, you can look back and be proud of where that refund got you.
1. Pay Down Existing Debt
Paying off high-interest debt and credit card balances or paying off smaller debts entirely will ultimately put more money in your pocket each month. Even if your refund isn't large enough to eliminate your debt, you'll reduce the amount you pay in interest each month, and seeing your balance drop can be a great motivator to get the rest paid off. Reducing debt can also help to improve your credit rating.
2. Put it in Savings for Emergencies
Expensive things tend to happen when we are least prepared for them. There's nothing like making the non-refundable down payment on a much-needed vacation and then coming home to find you need a new washing machine. A good rule of thumb is to have enough in your savings to cover six months' worth of expenses. This year's tax refund could go a long way towards meeting your needs when the unexpected happens.
3. Save for Retirement
Depositing your refund into an IRA account each year can make a big difference in your financial security later in life. If you already have an IRA set up, you can have the IRS deposit all or part of your refund directly into the account. If you are interested in opening an IRA but don't know where to start, visit your local Service Credit Union branch or call our Contact Center. Contributions to traditional IRA accounts may be tax-deductible and can be used to increase the refund you'll receive next year.
4. Start a Savings Account for Something Big
Been dreaming of a tropical getaway or ditching your 2-door hatchback for a luxury SUV? Maybe there are wedding bells or a new house in the future. Putting the money in a separate savings account or a CD until you plan on using it means you're less likely to dip into it.
5. Make Home Improvements
You can never go wrong with projects that add to the value of your home or just maximize your enjoyment of it. Small projects like a new front door, updating appliances, or new kitchen counters can increase the equity in your home and often cost less than the average refund.
6. Donate to Charity
There's nothing that makes you realize how good you actually have it like trying to figure out what to do with a bunch of money. Once you're sure you have your own financial needs covered, consider making a donation to help those in need or to support a cause you believe in. Not only will you get that good feeling from helping someone else, but some donations can be deducted from your taxes next year.
7. Spend 5% on Yourself
There's no reason not to TREAT. YO. SELF. It is your hard-earned money, after all. Set aside 5% of your refund just for you. Buy something you've wanted for a long time or load up a coffee gift-card so you can splurge on flavored, caffeinated, foamy beverages whenever your heart desires guilt-free! Indulging with just a portion of your refund makes using the rest of it responsibly so much easier.
*This post is meant to be informational in nature and is not intended to be investment advice. This information does not consider the specific investment objectives, financial situations, or needs of any specific individual who may read this post.