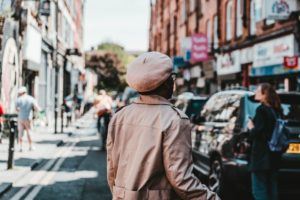 When we received our military orders to go to the Mildenhall Air Force Base in the U.K.,  I have to admit that I was nervous. We had moved several times with the military, but always in the U.S.  Not knowing what to expect or how much things would actually cost was a bit scary.  Fortunately, my employer happened to have a friend from the U.K. and he set up a casual dinner meeting so I could ask questions.
I wondered how much I should plan on for monthly utility costs, the availability of home rentals within our budget, what I should buy locally, and what I should be aware of before moving there. She definitely gave me a leg up on knowing what to expect.
For instance, in England, most utility companies require individuals to set up automatic recurring payments from a debit account. This was when we still used paper checks for everything, so this was new to me. She warned me that Value Added Tax (VAT) could add as much as 20% to the cost of services and goods. Some shopkeepers showed the price tags with VAT included, and some did not. I also learned that our six-year-old TV was considered a luxury item, and as such, I would have to pay annual VAT if I planned to use it.
As we settled in and traveled around, paying for items sometimes required cash, but usually, I depended on my credit card for most purchases. The convenience of using my credit card was that no matter which country I was visiting, Visa® did all the conversion calculations. When it came to paying monthly bills, having automatic recurring debit payments actually made paying bills simpler, but I also had to keep in mind that a certain amount of my paycheck was already tapped.
Living abroad was an experience of a lifetime. We saw incredible sights, learned how to live on the local economy, and traveled to several other countries; all while living in a 500-year-old farmhouse with electrical converters in every room.
As a former military spouse, and current Service Credit Union employee, I am pretty excited about Service Credit Union's International Bill Pay to dozens of different countries in their unique currencies. This service adds tremendous value to our military members and their families. I know that I could have used that service when we lived overseas, especially as I became more and more ingrained in the community.
Our rented home was 45 minutes from the base, so we used many local services and often shopped in the village where we lived. It seemed that I always had both U.S. Dollars and British Pounds in my wallet, but not always the right currency, at the right time. International Bill Pay would have allowed me to make one-time payments or recurring payments directly to the payee, saving me numerous trips back to the credit union on base. And when my spouse was deployed, he could have paid bills directly from his Service Credit Union account in whichever currency was appropriate for the location he was sent. How convenient!
Service Credit Union understands the military lifestyle and the challenges and rewards of living outside the U.S.  Learn more about International Bill Pay and other exclusive features for military members here.