How to Avoid Senior Scams
---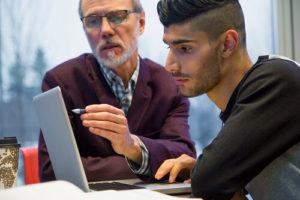 My Dad can't let a phone ring more than once or twice before he answers it. He is 77 and lives alone. It doesn't matter if he doesn't recognize the number on the caller ID. That is just what his generation does – they answer the phone when it rings. "Mr. Ouellette, this is your credit card company," Dad said the female voice on the phone was kind, with a slight Southern accent. "Your card has been compromised and we need to put a stop to it and issue you a new one. Could you please give me your Social Security number?"
Fortunately for my Dad, he has a daughter in financial services who keeps him informed of the latest scams. He shouted "Nice try!" and hung up the phone. Unfortunately, financial institutions are seeing many of their older members be targeted by scammers who come in many forms.
According to the Consumer Financial Protection Bureau, the average 70 to 79-year-old who has fallen victim to a scammer has lost an average of $43,000. Sadly, when the scammer is someone the senior knows, they lose an average of $50,000. At Service Credit Union, our staff is highly trained to recognize suspicious activity, but we should all be on alert for scammers. Here are some great tips for you or the older adults in your life:
If you don't recognize the number, let it go to voicemail. You can always call them back if it's a legitimate caller. According to CNBC, last year there were 48 billion robocalls made with 3-5% of people responding.
Even if you do know the number, be wary. Phone numbers can be "spoofed" with easily available technology. People are reporting getting scam calls from their spouses or even their own phone numbers.
Watch out for "emergency scams." These are scams in which someone calls or contacts you saying they're a family member or close friend, and say they need money right away to get out of trouble. If you get this type of call, hang up immediately and call or message the family member who supposedly contacted you. If you can't reach them, call someone else in your family or circle of friends, even if the caller said to keep it a secret.
Download an app that blocks robocalls: There are several and some charge a small monthly fee. Robokiller is one app that blocks robocalls and also answers the call with a recorded "hello" on your behalf to deliberately waste the caller's time.
Require receipts for purchases and don't pay for work before it is performed to your satisfaction.
Never tell a caller your Social Security number or the number of any of your credit or debit cards. A financial institution, credit card company or the IRS will never call you and ask for personal information. They might ask you to verify your information if you call them – but never the other way around.
Do not allow hired help or caregivers to open mail, pay bills or touch your finances. Never let them use your credit or ATM card.
Do not deposit checks you receive in the mail claiming you have won a lottery or sweepstakes. Checks turn out to be fraudulent, and lottery scams often request an upfront processing fee.
Safeguard against debt collectors. If you don't recognize the debt, ask for something in writing and ask for their name, telephone number, and address. Do not give any financial information. If you are called by a debt collector for money you don't believe you owe, you also might be a victim of identity fraud where someone used your identity to use your Medicare benefits. Call your Senior Medicare Patrol (SMP) which varies by state and can be found at smpresource.org.
Don't trust strangers, even if they know your name, the name of a loved one, or even the last four digits of your social security number. All that information is available online and via social media. Veterans especially beware, scammers look for family members honoring loved ones on Veterans Day and target them with VA and charity scams.
Do not make donations to charities that can't provide information and proof that a contribution is tax-deductible. Never succumb to pressure to donate immediately, provide account information or routing numbers, or wire money. You can check if a charity is legitimate through Charity Watch and other online charity tracker websites.
Finally, and most importantly, speak up. Take it upon yourself to warn your family, friends, and neighbors what you have heard about scams, and don't be afraid to be a tattletale. If you or someone you know has experienced financial exploitation there are people to report it to. In New Hampshire, you can call the Bureau of Elderly and Adult Services (BEAS) at 603.271.7014. Or, call your local police station. Some police departments have an officer or detective specifically assigned to elder fraud and exploitation. Tips can be made through the Department of Justice Consumer Complaint hotline at 888.468.4454 or via The Federal Trade Commission at ftc.gov/complaint.