Make the Most of Your COVID Stimulus Check
---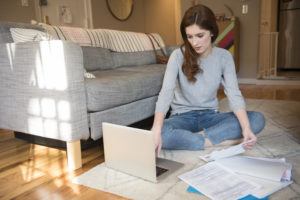 In order to provide relief to people feeling the financial burden of the pandemic, the government passed a $2 trillion economic relief plan, known as the CARES Act, which includes directly making payments to eligible Americans. The money is coming in waves over the next few weeks, both via direct deposit to those who have previously set up direct deposit with the IRS, as well as via mail for those who have not. According to the IRS, millions of people can expect to receive money in the coming weeks.
Am I eligible for a stimulus check?
Whether or not you will receive a check depends on your annual income. If you make $75,000 or less as a single tax filer and less than $150,000 if you are married and file jointly, you are eligible for the $1,200 stimulus payment. The income that the government is using to determine if you are eligible or not is what you reported in your 2019 taxes, or if you haven't filed for this year yet, your 2018 tax return.
You can learn more about the stimulus bill and if or when you should be receiving payment at the IRS' website.
But, once you have the money, what should you do with it?
This money is a lifeline for some and just extra padding for others. But, just like in any crisis, anyone's situation can change overnight. There is no way to predict how the ongoing situation will affect you and your family. The best we can do is be there for each other and do our best to be prepared if an emergency should arise.
Check out these tips on making the most of your stimulus check.
Emergency Savings
Don't currently have money saved for an emergency? Use your stimulus check to kickstart your savings. You can earn 5% APY on the first $500 you deposit by putting only a portion of your stimulus check into a Primary Savings Account*. Putting your money away for an emergency can not only provide your family with peace of mind during these trying times but also keep your money growing. Most experts agree that you should have between three to six months of expenses saved for an emergency.
Make It Last
Let's face it, no one knows when this situation will end. If you can afford to add a little bit of money on top of your stimulus payment, putting your money in a Money Market may be the way to go. Money Markets are savings accounts with a twist. The more you deposit into a Money Market, the higher your dividend rate is, or in other words, the more rapidly your funds will grow. However, the minimum balance to open this type of account is $2,500**.
Review Your Budget
It's never too late to prepare for an emergency. Take a look at your budget to determine where you can save money. Focus on the essentials, such as rent or mortgage, utilities, groceries, insurance, and so on. Once you have those items paid, you will start to notice where you can trim things down. If you don't yet have a budget, look at this template to get started.
Pay Down Debt
If after reviewing your finances you feel you are in a safe place as far as your savings are concerned, but you have debt such as student loans or credit cards, start paying down your debt. Although, because of the current hardships we are facing, we may get some leeway with our payments, as it relates to student loans, our bills are not just vanishing. It's a good practice to stay on top of making payments to ensure that should you need it for an emergency, you do have a line of credit available.
Give Back
And finally, if you can safely say that you do not and will not be the person or family to most benefit from a stimulus check, consider donating it. Like I stated in the beginning, these checks are a lifeline for some, so you can put yours to good use by supporting those in need in your local community. Read this article to learn how to donate medical supplies to healthcare workers in need. Other options for donating include local food banks and local shelters.
Although everyone's finances are unique, everyone's goal is the same; to stay on track and be able to come up for a breath of fresh air at the end of all of this. For more guidance or tips on saving smart or budgeting visit our community education partners website, Greenpath.
*Annual Percentage Yield (APY) is accurate as of the last dividend declaration date of 04/01/2020 and subject to change without notice. Dividends paid on average daily balances of $500; variable APY of 5.00%. If the average daily balance exceeds $500, the remaining balance will receive a variable APY of 0.25%. A minimum deposit of $5 is required to open a Primary Savings account.
**Members may make up to six transfers or check withdrawals per calendar month from a Money Market to another account or to a third party. In-person, ATM, mailed or dropbox transfers and withdrawals are unlimited. If at any time during the month the money market daily balance drops below $2,500, a fee will be assessed. Please see the fee schedule for the monthly fee amount.