Personal Loans For Beginners: How Do Personal Loans Work?
---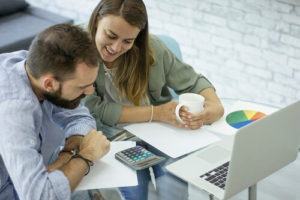 Since everyone is in a different financial situation, financial institutions offer many lending options. Doing your research or talking to an advisor would be helpful to determine what's right for you. One of the options may be a personal loan.
Typically, personal loans offer a fixed rate, which means the rate won't change after the loan is disbursed. Whether you're looking to pay off a debt or need money for a life event, here's what you need to know about personal loans:
What is a Personal Loan?
A personal loan is one type of consumer loan that involves borrowing a set amount of money and paying it back with interest on a set schedule. A personal loan is also an unsecured loan which means it doesn't require offering up assets as collateral to back the loan. It can be used for any purpose such as debt consolidation, credit card payoff, weddings, home improvement, medical expenses, major purchases, or vacations. These are just a few examples of the many possibilities a personal loan can be used for.
Personal loans tend to be disbursed faster than other loans, may require minimal documentation, and can be used for a variety of reasons. The maximum loan amount can vary depending on the financial institution and your financial circumstances and can typically be paid back between 6 months to 5 years.
For example, if you would like to take out $20,000 to help pay for your wedding, your payment based on the numbers below would be $407.93 monthly for five years.
Amount
Rate
Term
Total Interest
Monthly Payment
Comparing Personal Loans
When comparing personal loans you will want to decide on the amount you need to borrow. Keep in mind that your current financial situation like your credit history and current expenses will also determine the approved amount. Next, look at the interest rate being offered and the amount of time you have to pay it back. Some loan companies may give you a good rate but the loan must be paid back within a short period of time. Make sure you know what you can afford for a monthly payment with your budget. In many cases, if you have extra money, you can always make an additional payment on the loan to pay it off faster, which will decrease the amount of interest paid on the loan.
Is a Personal Loan Right For Me?
A personal loan is a good idea when there is a larger debt to pay that you do not want to put on a credit card. A personal loan will not only give you a fixed rate, but it also provides a definitive term for payoff. Having a clear picture of your payment amount, due date, and interest rate will allow you the freedom to budget accordingly and pay it back on time, or ahead of time.
How to Apply for a Personal Loan
Since every individual's credit history and financial health are different, your financial institution will start by pulling your credit report. This will help determine the loan rate and maximum loan amount you may receive. There are many factors considered when a rate and term are being determined, such as other debts you may have and/or your payment history on previous loans.
Determining if a personal loan is right for you is a conversation to have with your financial institution, as they will help you decide if it is the best option for your situation. Remember to compare rates and see what you qualify for before deciding if a personal loan is right for you.
*Rate shown is Annual Percentage Rate (APR).
**For example provided, first 59 payments will be at $407.93 and the final payment will be $407.19.