7 Winter Activities You Need to Try in New England
---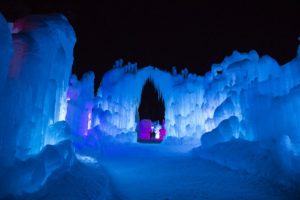 The holidays are officially over, yet that pesky winter season is here to stay. And, if you're anything like me, you are already daydreaming about digging your toes into the sand and the smell of sunscreen on your skin. Whether you battle Seasonal Affective Disorder, or you just find you spend less time outside when it's cold, there are a plethora of fun winter activities you can do, here in New England, that can help kick your winter fatigue.
Go tubing
Take sledding to the next level and go tubing. Bundle up, grab your crew and get ready to slide your way down a mountain on an inner tube. Granite Gorge Ski Area in Keene offers cosmic tubing on Saturday nights from 6:00 to 9:00 p.m., which includes glow necklaces, music, disco balls, and lights down the tubing track. Finish your night off with a hot chocolate or a hot toddy.
Hit the slopes
One of the beautiful things about living in New Hampshire is that we have endless opportunities to explore the mountains. Right in our very own backyard is some of the best skiing terrains. Check out the Top 12 Top-Rated Ski Resorts in New Hampshire. If you are a novice, like me, you can find a beginner or bunny hill at any mountain.
Take a Hike
Speaking of the mountains, get out of the house and take a winter walk or hike. By hiking, I don't mean scaling the tallest and most ice-covered peak in the area. There is plenty of beauty to behold in our very own backyards, especially in the wintertime. Pick a park and take a winter walk. As you walk, be sure to look for animal tracks in the snow. Some common animals that you are likely to see include chickadees, deer, and foxes. Not sure where to start? Visit the AllTrails app to find trails near you.
Try ice skating
Puddle Dock Pond in Portsmouth, New Hampshire is located in the heart of the Strawbery Banke Museum. The skating rink at the museum offers rentals, snacks, and more at a relatively low cost, and is even free on Saturday mornings and Tuesday evenings. Once you are done skating, and your feet need a break, visit the historic buildings that surround the rink or check out a view of the water. I can't think of a better family-friendly night.
Explore the Ice Castles
The Ice Castles are an award-winning attraction that can only be found in six states, one of which is New Hampshire. You will feel like you are walking straight through the set of "Frozen." Wander through 20 foot high castles made purely of ice that are lit with beautiful rainbow colors. People of all ages glide down slides made of ice and climb through ice tunnels. Be sure to dress warmly and visit at night to get the best experience. You can check out these castles in North Woodstock, NH.
Make a fire
Who says bonfires are a summer activity only? The snow acts as an insulator for the ground. All you need is dry brush to burn. The bonfire does not need to be big to cook marshmallows. Pro tip: use a Rolo instead of a regular chocolate bar in your s'mores for a yummy twist. Be sure to check if your town requires a permit before having a fire.
Create snow art
Put your painting skills to the test on an expansive canvas with snow art. Fill several spray bottles with water and a couple of drops of food coloring, shake well and spray. Get adventurous and make your art 3-D by building something in the snow and then adding color. Food coloring is non-toxic and will wash out of mittens!
Give one of these activities a try and fear not fellow summer-lovers, our precious warmth is between four and six months away. After all, this is New England.