Service Credit Union Hosts World War II Photo Exhibit
---
Esquire Magazine's "WWII Years" Open to Public Through February 14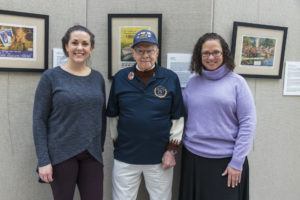 Service Credit Union is excited to announce it is hosting Esquire Magazine's "World War II Years" photo exhibit, on loan from the Wright Museum in Wolfeboro, N.H.
Open to the public at Service Credit Union's headquarters on weekdays from 9 a.m. to 4 p.m., this exhibit features more than 40 covers, cartoons, ads, and photographs that were meant to provide momentary respite from the media's constant and unsettling war coverage during World War II.
Esquire Magazine was founded in 1933 as a slick and sophisticated men's magazine, but evolved into a general-audience publication during World War II, concentrating on American style and culture. More than 75 years after D-Day, this exhibit honors those who served.
This exhibit will be open to the public from January 21st through February 13th at 3003 Lafayette Road in Portsmouth, N.H. No tickets are required and there is no charge for admission.