Moving Tips to Lighten the Load
---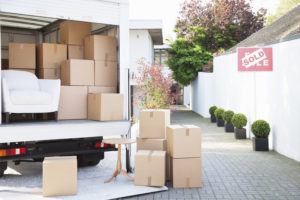 It's that time of the year when moving trucks are everywhere. And if you're part of the group getting ready to put your own stuff on one of those trucks, you're likely a little stressed right now. Not only are you saying goodbye to a period in your life, you now have to pack that life to a new location. Having spent almost two years as a moving estimator before I started at the credit union, I'm here to offer some tips: not so much from the real-estate side, but from the side, not many people see the estimator's side.
Prepare for Your Estimate
While you've likely already researched reviews of movers in the area, whether via Yelp, www.homeadvisor.com, or word of mouth, don't be surprised if moving companies have been researching you, too.  Moving companies can purchase a list of people who have listed or sold their homes recently. Don't be alarmed, the information listed is not overly sensitive (e.g. name, size of the house, and phone number) and is meant to connect you with movers in your area.
Once you have narrowed down your mover options to 2-5, aim to get an in-person estimate if possible, as these will be much more accurate than an estimate done over the phone or via an online form.
It's important to note on the arrival of the estimator:
If the estimator arrives on time and looks professional.
Has a moving checklist to determine cost.
Brings references from past moves.
Takes photos of your driveway or apartment entry road (given your permission) to determine how their truck may appropriately enter it without ruining grass or plants. This extra note will give the truck driver advance knowledge of how to back up or pull into the area.
Though it may seem simple, it's a good sign if the estimator offers to take their shoes off or wear boot covers on their shoes while they walk through your house. This tiny detail shows they are paying attention to every detail, even the floors they walk on.
Note Everything You'll Be Moving Before the Move
Once inside, the estimator will ask for a tour of the home. If you have a house with more than one level, most estimators will start on the ground floor and save the attic, basement, and garage for last. As the customer, it's important to note anything you will be moving before the estimator arrives—as in, literally putting a sticky note on it, if it's not already in a labeled box.
Also, note items you are packing yourself. If you don't note, your quote will be off. The average estimate will last 15-20 minutes for apartments and small homes and 30+ minutes for homes that have two or more bedrooms.
Be sure to mark large items such as a safe or a refrigerator, and note that movers may not take gas-powered lawn mowers or weed whackers. Also, show them the best way the movers can enter and exit the house for easy access in and out the day of.
Understanding the Numbers
Once you have given the grand tour, it's time to sit down and start crunching the numbers. For moves within the same state, companies generally charge hourly based on how many people it would take to do the move. You can assume it would be two people for a one or two-bedroom home, plus one additional mover per bedroom. Five-bedroom homes, or homes over 5,000 square feet, may need a fifth and sixth person, plus a larger truck. Your local in-state movers will charge between $135-$200 per hour for 2-4 movers and a truck, and will typically add $35 per additional mover. Moves going over state lines are usually priced based on weight. Movers have a software program that can calculate weight-based moves with taxes, gas, and fees.
A good mover will estimate slightly higher than what it may actually cost for weight and people moving. That's a good thing for you because it's better to come in with a high estimate and land under, rather than be left unpleasantly surprised. It's normally about $750 on the weighted move and an extra hour on the local move. That is because there are so many things that could go wrong—for example, the driveway is hard to back down, an item is especially bulky, or even just the shape of a doorway is tricky.
What About Insurance?
Reputable moving companies will offer you insurance coverage. Some of your move (about 60% per pound per article) will be covered by the companies' own insurance, no matter what. By purchasing additional total coverage, you will ensure everything on the truck gets to its destination safely. For larger moves, especially across state lines, it's recommended to get the coverage. If the move is local and you're not transporting anything super valuable, it's better to just take the basic coverage.
As you get closer to the move, pack as much as possible. If you're still putting things in boxes when the movers get there, you'll be wasting their time and wasting your money (remember, you're paying by the hour!)
No matter what, the ability to understand the mover's side of things will help you save and lessen just a bit of that moving stress.