Your Guide to Hassle-Free Shopping in Europe
---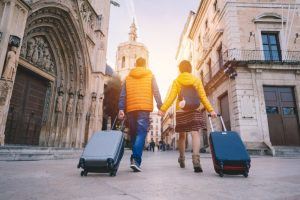 Exploring Europe, whether you're just visiting or have recently PCS-ed there, gives you a great opportunity to discover new cultures, try new experiences, and taste delicious cuisine. However, for those accustomed to the "plastic is king" mentality back home in the United States, it's important to remember that things are not always the same abroad. We're here to provide some tips on navigating the European shopping landscape, from currency considerations to card choices.
1. Always Carry Local Currency
When venturing across Europe, it's essential to recognize that not all merchants will take cards and not all European countries use the Euro. To avoid payment hiccups, research and acquire a small amount of the local currency of the country you're visiting. Carrying around $50 to $100 worth of this currency provides a safety net for emergencies. If you're in need of some local currency, no need to bother hunting for currency conversion services, it is easier to withdraw local cash from a nearby ATM. Some financial institutions, such as Service Credit Union, allow you to order local currency before you go, and may also reimburse ATM fees up to a certain amount.
2. Choose ATMs Wisely
Not all ATMs are created equal, and those standalone mini ATMs or privately-owned machines often come with hefty service fees. Opt for ATMs located within traditional brick-and-mortar banks, as they typically impose lower service charges. Prioritize your safety too! Be aware of your surroundings, protect your PIN while withdrawing cash, and avoid flaunting large sums of money in public. Consider dividing your funds into separate secure locations to deter and lessen the impact of potential pickpockets, especially in major cities.
3. Decline Currency Conversions
When shopping or using ATMs abroad, you may be offered the choice between processing transactions in your card's currency (USD) or the local currency. It's advisable to decline currency conversion and opt for the local currency. Merchants and ATMs often offer less favorable exchange rates than your card provider, making it more cost effective to let your card handle the conversion during processing.
4. Consider Card Compatibility
While Visa and Mastercard are widely accepted in most places, Discover and American Express cards may pose challenges. Carry at least two different card types to ensure payment flexibility, and make sure your cards are contactless and chip-enabled. Some card readers may require these features for transactions. Fortunately, Service Credit Union credit and debit cards offer contactless and chip capabilities, ensuring seamless payments. Plus, when you use a Service CU credit card, you won't be charged any foreign transaction fees.
5. Consider a V Pay Card
A V Pay card, akin to a debit card, is tailored for European use. It serves as an excellent solution when traditional credit or debit cards face limitations and aren't accepted at "mom and pop shop" type merchants. You can easily order a V Pay card for your Service Credit Union checking account online or at a branch in Germany. One of its major advantages is the absence of foreign transaction fees, offering peace of mind for your European shopping adventures.
6. Monitor Exchange Rates
Calculating the impact of foreign currency on your USD account can be challenging. Fortunately, you can stay informed by checking the Exchange Rates section of our website, which we update daily. You can even sign up to receive daily updates on Euro rates! Keeping track of these rates will help you make informed purchasing decisions while abroad.
As you embark on your European journey, seize every opportunity that comes your way while keeping these tips close at hand, and you'll become a savvy European shopper in no time.