Benefits of Direct Deposit and Why It May Be a Good Idea for You
---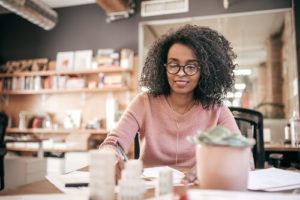 Weighing the pros and cons of having your salary directly deposited into your checking account? According to Nacha, which manages the governance of the ACH (Automated Clearing House) Network, 93% of U.S. workers are paid by Direct Deposit via ACH, the electronic movement of money. If you are in the minority still receiving paper checks, here's why it might be time to consider moving over to an automated system – don't worry, it's easier than you think.
Convenience
With direct deposit, you'll no longer have to take a trip to your financial institution on payday or risk losing your check before you can cash or deposit it. Dumping paper checks is also more environmentally friendly!
Faster Access to Your Funds
Not only is it more convenient to have your salary deposited directly to your account, but with direct deposit, you won't have to wait for it to clear. Some financial institutions, including Service Credit Union, may offer an earlier pay of up to two days with direct deposit to your account1. Direct deposits are available on the day the deposit is received. Be sure to check your options and take advantage of them if it makes sense for you.
Security
If you don't have to carry around a physical check, there's less chance of you losing it or having it stolen. With direct deposit, there's never a concern for having to get a check replaced.
Added Benefits
In addition to speed, security, and convenience, some financial institutions may offer added benefits with your checking account should you choose to have direct deposit with them. At Service Credit Union, not only can members with direct deposit get paid up to two days early1, but they are also eligible for discounts on auto and personal loans.2
How to Get Started
Ready to start getting your pay sent directly to your account? It will only take a few minutes, and just a few steps!
First, ask your employer what their process is for setting up direct deposit. While many will have an option to do this in an electronic payroll system, you may have to fill out a paper application. Next, make sure you have your personal account number and financial institution's routing number easily accessible, as you'll need both of these pieces of information. To check your account number, simply log into your financial institution's online banking portal or mobile app. If you bank with Service Credit Union, our U.S. routing number is 211489656, and our German BLZ Routing number is 54030011. Both of these numbers can be found right on our homepage. Then, confirm the deposit amount – you can choose to deposit your entire paycheck or part of it – and attach a voided check or deposit slip, if required. All Service CU branches carry direct deposit forms – simply ask your teller for one!
Boom, that's it! Now you have all the information you need to set up direct deposit. And if you bank with Service Credit Union, there's more good news: When you add direct deposit to your Service CU checking account, not only can you enjoy benefits such as the aforementioned early pay 1, you'll also get discounts on auto and personal loans 2, ATM fee reimbursements 3, and more. Check out all the benefits of Everyday Checking with Direct Deposit.
1 Immediate credit of your direct deposit to your Service CU account up to two (2) business days early is based upon when we receive your payroll from your employer. Service CU cannot assume any liability for not depositing these funds to your account early. Must be a member of Service CU or eligible for membership.
2 Loan Discounts do not apply to real estate, lines of credit, business loans, certificate or share secured consumer loans, or VISA loans. Discount will be applied to the APR that a member qualifies for based on creditworthiness and checking account tier. The collateral age and loan term may impact the APR offered. Members must maintain the checking account tier qualifications for the life of the loan in order to keep their loan discount. Discount conditions will be set forth in your loan contract. Floor rate may apply. Must be member of Service CU or eligible for membership.
3 ATM surcharge fees and foreign transaction fees will be rebated up to $15 a month for the Direct Deposit Checking Account tier and up to $30 a month for the Direct Deposit+ Checking Account tier. Excludes Basic Checking Account tier. Rebates will be applied to account on the first business day of the following monthly cycle that the rebate eligibility requirements were met. ATM surcharge fee rebates would apply to fees imposed by non-network ATM owners/operators.