Get Paid Up to Two Days Early
---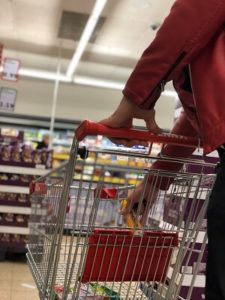 At Service Credit Union, military members with direct deposit can get paid up to two days early. People often ask "What's the big deal?"  When I hear that, I immediately know that they have never shopped at the commissary on payday. While the commissary experience can differ from base to base, my memories of shopping on payday went like this: On payday, military members and their families make shopping look like an Iron Man competition, where every member of the family is on the team. It is like there is some sort of edict that says leave no-one behind.
The families travel in packs, scouring the shelves for groceries that will last two or more weeks. On bonus weeks when the commissary has Truckload Sales, this feat takes more than one grocery cart. There is usually a sulky teenager pushing one, while a parent pushes the other, juggling coupons and toddlers. It's a race to get to the front of the store the fastest. Once there, you get the privilege of waiting in one of the many swirling long lines to check out.  Military members and their families know that getting paid early is like getting a free pass in Monopoly.
My strategy for grocery shopping at the commissary was two-fold. First, I made a menu of meals for two weeks, and then I created a grocery list of items I needed to make those meals. I intentionally shopped for groceries only every two weeks, because I found that the more times I was in the grocery store, the more I spent. Limiting it to every two weeks helped me to save money. I told everyone in the household to add anything else that they needed to the list. My family knew that if they didn't add the item to the list before shopping day, the items wouldn't go into the cart. This helped to limit impulse purchases so that we stayed within our budget.
As a shopper, I loved getting paid two days early and hitting the commissary two days before payday. The shelves were fully stocked with front-facing colorful packages, the aisles were quieter and less crowded and my sanity stayed intact longer.  Just one word of advice, just because you can get 24 boxes of frozen pizza rolls for $1, doesn't necessarily mean that you should.
I was reflecting on my commissary experience with an overseas Service Credit Union associate recently, telling him that one of the best advantages of getting paid up to two days early was beating the rush at the commissary. He told me that when Service Credit Union first began to offer military members early payday, the commissary manager was caught off-guard.
You see, the commissary is usually extremely slow on the days leading up to payday and so they only had minimal staff on duty.  Then one day while walking the aisles, the manager saw that the store was full of shoppers, but payday was still two days away. Noticing that most of the shoppers were Service Credit Union members, the commissary manager called the branch on base to ask what was going on.  The branch staff explained that military members with direct deposit would now receive their paycheck up to two days early.
The manager adjusted staffing to accommodate the newly created "before payday" business. Over time, he found that having shoppers in the store before, during, and after payday spread out the usual crush of shoppers, which helped to reduce check-out lines allowing shoppers to get through faster. Today, busy military families who bank with Service Credit Union still enjoy getting paid up to two days early and have the option to shop when it is most convenient for them.