How COVID-19 Has Changed Military PCS
---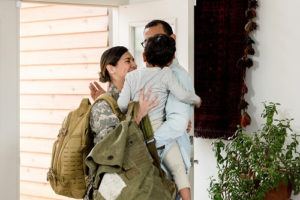 A military Permanent Change of Station (PCS) can be stressful – especially during the Coronavirus outbreak, and subsequent Department of Defense (DoD) travel restrictions. It may feel uncertain and confusing, but remember – you're not alone. There are thousands of military families feeling "stuck" in limbo like you are right now. According to a Pain Points report from Blue Star Families, about 21% of military families who were supposed to PCS during the stop move order are paying for housing in two areas or will at some point soon.
So that you can plan ahead, here are some changes to the normal PCS procedures that you can expect during the Coronavirus outbreak:
An approved waiver or Exception to Policy (ETP) is required to be able to travel during the stop movement order.
The DoD travel restriction order applies to all DoD service members, civilians, and their families, yet exceptions may be given when the travel is mission essential, necessary for humanitarian reasons, or in the event of extreme hardship. Military members applying for a waiver or Exception to Policy (ETP) must fall under the eight exemptions listed on the Secretary of Defense Travel Restrictions order. If you intend to request a waiver or ETP, make sure to check in on the status at least weekly. It will route through your command sponsorship and then for final SecDef approval. Once it is approved, your travel orders must state the exemption or waiver under which the travel is authorized.
Most Household Good (HHG) shipments are held up, which is pushing military families to the DITY (Do IT Yourself) move.
TRANSCOM issued a service-specific policy in March on how personal property will be moved during the stop movement order. There are no restrictions for goods already in transit, yet there are restrictions for shipments ready to go out. Each branch of service has provided its own policies and exceptions. Typically in a PCS, you can choose to move your belongings by either: the HHG process or the DITY (Do IT Yourself) process, now called Personally Procured Move (PPM). Many moving companies have temporarily closed due to health concerns from COVID-19, so you may find yourselves with only one option: the DITY move.
You will be reimbursed for moving your own things in a DITY move. For many military families, the time spent organizing, packing, and moving all your boxes and furniture is worth it, especially since it will be difficult right now to ship them. You can always do a partial DITY and get reimbursed for only the stuff you moved. Maybe you have belongings that you don't mind getting held up through the HHG shipment process that could help lighten the DITY load. Try this DITY Move Calculator (CONUS-CONUS only) to estimate the amount of money you'll receive in a DITY move. Talk to your installation's Finance office, Travel Management Office (TMO), and refer to the Joint Travel Regulations (JTR) and their PCS & Relocation Allowances Frequently Asked Questions for specific allowance and expense details.
A special leave accrual memorandum has increased the use/lose leave balance from 60 to 120 days.
Avoid taking unnecessary leave in your travels during COVID-19. Using leave during your travels is discouraged to reduce potential exposure. Focus on getting from Point A to Point B in the quickest way possible. The Special Leave Accrual memorandum increased the use or lose leave balance from 60 to 120 days until September 30, 2020, so that military members can feel less worried about potentially losing accrued leave.
You may be able to begin your travel even if you have not received your "no-fee" passport beforehand.
Ensure that your passport type will allow you to travel. Depending on the country you're moving to, you may or may not be able to use a tourist passport as usual. In some cases, countries are allowing military personnel and families to receive their no-fee passports after reaching the destination because of COVID-19. Contact your local Passport Center to make sure the type of passport you have now will allow you to enter the country you're moving to.
The rules and guidance will continue to be updated as new information and restrictions related to COVID-19 arises. Make sure you stay tuned to all the changes and do your best to remain calm, flexible, and patient during these uncertain times.
Other PCS Resource Links related to COVID-19:
COVID-19 Travel and Transportation Allowances Questions and Answers
Modification and Reissuance of DoD Response to Coronavirus Disease 2019 – Travel Restrictions
Per Diem Allowance during Isolation, Awaiting Transportation, and Government-Funded Leave
U.S. Department of Defense FAQ for Travel Restrictions