Changing Stations During COVID-19? Here's What You Need to Know
---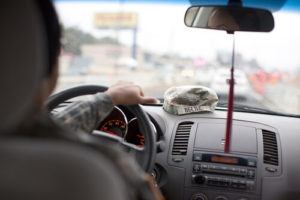 Some military families are still being authorized to travel on their military PCS during the stop movement order because of their circumstances. Traveling during the Coronavirus pandemic can be difficult as it is, so you can expect to take some extra precautions on the PCS road. Planning ahead and following the CDC guidelines for travelers will help you and your family stay safe and healthy.
These are some things you can do to best prepare for your PCS:
Stay tuned to your new city or town's news. For those of you with kids in school, find their new school district's website and make sure you can receive updates regarding COVID procedures. Each military installation should have a School Liaison that can help you find the right information about your child(ren)'s new school or you can search for guidance specific to each DODEA school systems. Also, subscribe to your new city or town's newsletter to receive the latest updates.

Find ways to save money packing. Do what you can to be mindful with your pennies. You're going to be spending a lot of money during your PCS move, but there are ways to save through rewards programs and military discounts. Take time to shop around for the best rates on moving trucks.  There are some other great PCS Money Saving Hacks posted on the My Military Network site.

Take inventory of your belongings. Many military families will create a list of every large item that they are moving, including serial numbers and dollar value. If you're doing a partial DITY move, you may want to indicate what was shipped and what is going with you. This will make things a lot easier for yourself when you finally get settled and may find that something is lost or damaged.

Create a PCS Binder. Fill a water-resistant file folder for original and/or copies of important documents. Keep a few clear zip pockets with pencil, markers, pens, paper clips, and sticky notes in case you need to make notes. Examples of documents to fill the binder with are: orders and any order modifications; approved command sponsorship memo; marriage certificates and/or divorce decree(s); birth certificates for yourself and all family members; all receipts charged to government travel card; hotel/airfare/travel confirmation numbers; moving company receipts and contracts; and pet medical records (if applicable).

Make sure everything is in writing. Most military members are familiar with the fact that almost everything you do has to be authorized and in writing. Start by checking your orders thoroughly. Does it have all the travelers listed with their information? If you are authorized to travel during the stop movement order under a waiver or an Exception to Policy (ETP), does it state that? All your receipts are written proof of the purchases you made, so keep each one or request one, if needed.

Talk to people! It's important to ask questions. Keep a good contact list with names and phone numbers of all the organizations you'll be dealing with during your PCS such as your PCS sponsor, first sergeant, and moving companies. You should have received a PCS checklist from your new installation that will include many other important contacts. There are several social media groups for military families where you can find thousands of PCS tips and ask any question you can think of. Every PCS is very unique and you are bound to find someone there that has done before what you're planning to do.
Here are some tips while you're on the road that will help minimize your potential exposure:
Protecting your health is #1. If you don't feel comfortable in any situation, don't feel afraid to say something. People and companies are very understanding and respectful of requests that help prevent the spread of the virus. Be familiar with these 5 measures to protect your health while packing and moving your belongings in a COVID-19 environment.

If you're a coffee-lover, consider packing a French press. There are non-glass options that are best for traveling. Many gas stations have hot water dispensers for tea that you can use to fill your French press. This will help reduce physical contact at drive-thru coffee shops, and you can save some pennies buying your favorite coffee in bulk.  Don't forget a travel mug!

Make a sanitizer kit. Fill a bag with hand sanitizer, disinfecting wet wipes, disposable gloves, face masks, sealable disposable plastic bags and tissues. This will come in handy when you need to go out in public. These items are still low in stock at stores, so fill the kit with just enough to make it through the trip.

Pay with a card or pay online. You can sanitize your debit and credit cards, not cash. Plus, you'll be eliminating face-to-face interaction if you stop to fill up with gas by paying for cash.

Pack plenty of food and snacks. Stock up on snacks and drinks, so you don't feel tempted to buy to-go foods. Make room for a small cooler in the car to fill with refrigerated foods to keep a balanced diet on the road.

Plan your sleeping arrangements ahead of time. Many hotels are still closed, so make sure to book all your reservations before you leave. Hotels are also rethinking their approach to sanitization and social distancing. Find out the hotel policies where you want to stay to make sure you are comfortable with those procedures before you book.

Ensure your direct commander is aware of your travel itinerary. It is each traveler's responsibility to inform their new unit in advance of their travel plans and make sure to update them as soon as things change.
The key to a successful PCS during this uncertain time is to stay healthy, stay flexible, and stay informed. Rules and guidance are constantly changing as new information is released. Staying calm and flexible will help you get through this without too much stress. Remember, your health and safety is paramount and should be your #1 priority during the PCS process.
Other PCS Resource Links related to COVID-19:
COVID-19 Travel and Transportation Allowances Questions and Answers
Modification and Reissuance of DoD Response to Coronavirus Disease 2019 – Travel Restrictions
Per Diem Allowance during Isolation, Awaiting Transportation, and Government-Funded Leave
U.S. Department of Defense FAQ for Travel Restrictions