How to Choose the Perfect Car for Your Budget
---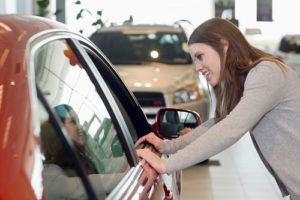 So, rumor has it you are in the market for a new car but may not know where to start. Believe me; I get it. It hasn't even been a year since I purchased my first car, and I remember buying a vehicle being a daunting process. After much deliberation and research, I ended up going with a Volkswagen Jetta. Her name is Edna (yes, the car has a name), and she's sort of a blueish-white color.
Also, did I mention that I am not a "car person"? Back when I was buying my car, I didn't know anything as I leaped into the deep end at the dealership. But, lucky for you, hindsight is 20/20, and now that I have fumbled through the process, it's safe to say that I know what I would've done differently. With a bit of research and a few steps, you will be naming your new car in no time. Please note: the name Edna is already taken.
Let's get you started on choosing the best car for your budget.
Step 1: Determining What You Need
Everyone needs something different from their car. When I was purchasing my new car, I was considering my commute. It was about 60 miles, so I needed to make sure I picked a vehicle that got good gas mileage and of course, was safe. Because I live in New England, a car that could get me from point A to point B in the snow was also a must.
As a first step, consider what you need from your vehicle. Do you need to be able to fit a family of eight or maybe tow something heavy? I encourage you to make a list of needs and then an additional list of "nice to haves" — for example, heated seats. The "nice to haves" are exactly as they sound; not necessary but would be nice to have. Once you have your list, you are ready for step two.
Step 2: Establish Your Budget
Take a gander at your budget. Unless you have been saving for the specific purpose of buying a new car, chances are you may need to apply for an auto loan. The rule of thumb that I learned was that it's smart to keep your car payment at 20% or less of your monthly income. But, don't forget to factor in paying for gas, insurance, and tune-ups on top of your monthly payment. Establishing your budget will help you determine where to start.
Step 3: Use A Car Finder Tool
There are many cars in the sea. Next, you will want to do some research. Use a car finder tool to narrow down your options by your must-have list, price, new or used, and so on. This tool can also help you to factor out your potential car loan payment. You can even compare cars if you are going back and forth between a few. Based on your search, narrow it down to what you will want to test drive.
Step 4: Approach Your Financial Institution
If you think you will need a car loan, this is the point at which you should approach your financial institution and see what you prequalify for. It will also help you to view your total budget more effectively. For more information on how to prepare, check out our Five Steps to Take Before Getting an Auto Loan.
Step 5: Test Drive
Now that you are certain you know what you can afford, it's time to test a few out. Either test drives at the dealership or at home through a no-touch deal. Be sure to test drive more than one car, even if you think you know exactly what you want. The feel of the wheel could be different than what you've read online.
It can be easy to get caught up in all of the bells and whistles of a new expensive vehicle, but at the end of the day, you set your budget and know what you can afford.
Step 6: Time to Buy
I think you could have guessed this would be the final step. But, now that you understand what car is perfect for your budget and understand your auto loan, it is time to sign on the dotted line and buy it.
Get a car loan from Service Credit Union!
Be sure to consider Service Credit Union if you're looking for some of the best rates for new and used car loans! For more information on finding the perfect car for you and your family, check out Service CU's vehicle financing options.