How GreenPath Helped Ryan with Managing Debt
---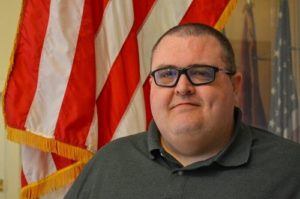 About one year ago, Ryan found himself in a difficult financial situation and was struggling to manage credit card debt. It led him to face overdraft fees on his Service CU account until he could no longer receive the Courtesy Pay reversals. Our member services team helped him create a payment plan for the fees. More importantly, we referred him to speak with our partner financial counselors at GreenPath, which is a free service for all Service CU members. That is when Ryan's financial wellness journey began towards tackling his debt, improving his credit score, and becoming financially stress-free.
I recently had the pleasure of interviewing Ryan, a Service CU member, to learn more about him and his experience with GreenPath. He is so thankful for the financial support he received from them. These were his responses in our interview that speak to how valuable this member resource was for him.
What was the process like getting started with GreenPath?
First, they did a soft pull on my credit report. I gave them all my bills and we went through each expense together to come up with a budget. Once they knew how much I could realistically afford to pay back, GreenPath worked with each of my creditors to negotiate a new payment plan. They were able to reduce all the interest rates and, in some cases, it was reduced all the way to zero. We decided on a low, fixed amount that I would pay GreenPath over the course of three years. Then, they handled the rest. I didn't have to talk to the credit card companies anymore. Within 3 months of starting with GreenPath, I no longer received phone calls from the credit card companies.
Were you able to work with GreenPath remotely?
I worked with them entirely over the phone. They do have an office in Manchester, NH, but I didn't need to go in. You can also speak to them through their online chat. The client portal is amazing. I can see where my payments are going, which creditor has approved the GreenPath proposals, and whether or not they have accepted or not. I can see my overall debt balance and projected payoff date is September of 2022. They [GreenPath] really make it so flexible and easy to work with. My stress level has gone from through the roof to practically nothing.
What did GreenPath tell you during your counseling?
All the staff at GreenPath helped me realize that the situation I was in was not my fault. It seemed like the credit card companies thought everything was fine and I could deal with the payments on my own. Once I started looking closer at the interest rates and realized how buried I was, it seemed so difficult to get out. I think there are so many people that end up in the position I was in. GreenPath assured me it was not my fault. There's a lot of legal terms and conditions that people often don't look at and it's very easy for anyone to wind up in thousands of dollars of debt.
What happened to your credit score and credit card accounts?
My credit score has increased by over 200 points in the past year. GreenPath allowed me to choose a few credit cards to keep open and the rest were immediately closed. I would not have been able to do that if I had filed for bankruptcy, which was basically the only option one company suggested to me before talking to GreenPath.
Do you have any other thoughts about your experience GreenPath you'd like to share with our members?
I hadn't heard about this free counseling until I wound up in the situation with my overdraft fees. I really wish I knew about GreenPath sooner and hope that other member are aware of it before they end up in a situation like I was. The decision to work with GreenPath has truly helped me in managing my debt and I'm feeling a lot less stressed about money.
A Little Bit About Ryan
Ryan has been a Service CU member since 2015. He lives in New Hampshire and is an IT Specialist for the State of New Hampshire. He loves computers, great food, and enjoys learning about new technology in his free time.