Shipping Your Personal Vehicle During a Military PCS: What to Know
---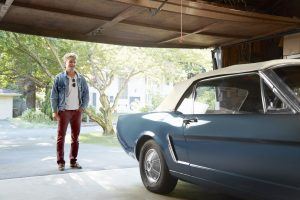 Amid the myriad challenges of a military Permanent Change of Station (PCS) move, the process of shipping your personal vehicle overseas adds an extra layer of complexity. This endeavor can be quite frustrating for a number of reasons, chief among them being the separation from your vehicle while it's in transit to your new duty station. We at Service Credit Union are able to empathize with the stress of this move, as many members of our staff have experienced overseas military moves firsthand. Drawing from our team's own experiences, we are able to offer some insights that can help alleviate some of the uncertainties associated with shipping your vehicle during a PCS.
Determining the Number of Vehicles to Ship
Typically, the government will cover the cost of shipping one privately owned vehicle per household. Any additional vehicles will need to be shipped at your own expense. It's wise to budget around $1000 to $2500 per vehicle for this purpose. However, keep in mind that the cost can vary based on factors such as the departure and arrival ports, as well as the size of the vehicle. To obtain an accurate cost estimate, it's recommended to request a quote from a private shipping company. If you think you may need financial assistance for POV shipping, Service Credit Union offers lending options that might suit your needs. For assistance exploring those options, please visit us at or reach out to our 24/7 contact center or a branch location near you.
Essential Documentation for Vehicle Shipping
Before shipping your vehicle, you'll need to gather a set of important documents. These typically include:
Official Military Relocation Orders: A copy of your official PCS orders is a fundamental requirement for initiating the vehicle shipping process.
Valid Government or State ID: Please provide any valid government or state-issued photo identification. Please note that you must have a valid driver's license in order to register your vehicle OCONUS (Outside the Contiguous United States).
Proof of Vehicle Ownership: Provide documentation such as a copy of the vehicle's title or bill of sale to establish ownership.
Current Vehicle Registration: A copy of the vehicle's current registration is needed. You will likely need to turn in your license plates to your local DMV after the vehicle is dropped off. Please check with your local state motor vehicle authority.
Lienholder Authorization: If your vehicle has a lien, you'll need a permission-to-ship style document on letterhead from the lienholder.
Power of Attorney/Letter of Authorization: If someone else is shipping the vehicle on your behalf, a notarized power of attorney or letter of authorization is required.
It is highly recommended to keep copies of all essential vehicle documents in an easily accessible binder or digitally stored format, ensuring you can reference them when needed.
Estimated Shipping Timeframe
The shipping duration for your vehicle can vary, typically ranging from 30 to 40 days, contingent on factors such as departure and arrival locations.
Vehicle Preparation and Special Instructions
To ensure a smooth shipping process, your vehicle requires some preparation: 
Fuel Level: Your vehicle's fuel tank should not exceed one-fourth of its capacity. 
Cleaning: Thoroughly clean both the interior and exterior of your vehicle, removing all dirt, debris, and any organic matter. Consider a comprehensive detailing of your vehicle, especially if you have pets or children who may have left messes. This is particularly crucial for hard-to-reach areas like under seats and within door jambs. Please note, any wet washing should be completed at least 14 days before shipping to allow for thorough drying. 
Personal Items: Remove all personal items from the vehicle before shipping. Anything that did not come standard from the manufacturer with the car should be removed. Also, no airtags.
Keys: Ensure you provide a complete set of keys when handing over the vehicle. This includes gas cap keys and wheel lock. They must be in good condition and not damaged.
Safety and Operability: Confirm that your vehicle is in a safe and operable condition and does not have any active recalls or brake issues. To check for recalls, go to https://www.nhtsa.gov/recalls.
Vehicle Size and Restrictions
Depending on the regulations of the destination country, there might be size or vehicle-type restrictions. To obtain accurate information, it's recommended to contact the local transportation office for guidance.
Navigating the Wait Period
While waiting for your vehicle to arrive, you have several options:   
Rental Cars: Consider renting a car, though this can be pricey.
Public Transportation: Utilize public transportation available in your new location. Many countries overseas are known for robust public transportation options and have apps to help you navigate.  
Carpooling: Reach out to colleagues or sponsors to inquire about carpooling arrangements. Don't hesitate to seek support, as everyone in the military community understands the challenges of PCS moves.
Final Thoughts
Remember that PCS moves can be stressful, but they are temporary. Maintain a sense of perspective and take steps to manage stress during the process. Waiting for your vehicle to arrive is a temporary concern, and in no time you should have your vehicle and be on the road again.
And don't overlook the support available from us at Service Credit Union. Whether you need a dedicated savings account specifically for PCS-related expenses, new or used vehicle financing, or seeking assistance with other costs associated with PCS moves, we're your trusted partner at every stage of the journey.
For more comprehensive guidance on shipping your vehicle, you can also refer to these resources from Military One Source and PCSMyPOV.