How to Find Your Dream Home in 7 Steps
---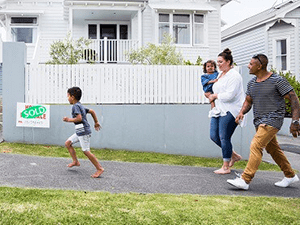 With today's technology, finding your dream home is literally at your fingertips. Many of us now exclusively shop online, so why shouldn't searching for your dream home, one of the biggest purchases of your life, be just as convenient? Thankfully, now it is. With some preplanning and some virtual elbow grease, you can get into the home that fits your needs perfectly – without the shipping delays! Here's how.
1. Figure out your vibe.
Whether old, historical Victorian homes are your thing or the clean edges of a modern kitchen in a swanky Contemporary are more your style, you'll be happiest if you consider what type of home will work best for you and your family.
A condo is great for easy living, as most condo associations will pay for things such as lawn maintenance and snow removal. Or, perhaps a single family home with space to grow and a yard for kids and pets is a better fit for you. There are as many variations of "home" as there are people in this world. Research some trends to see what speaks to you.
2. Location. Location. Location.
You may know you want to live the city life or out in the country already, but individual neighborhoods can vary greatly, even in the same area. To find your perfect fit, start by doing some research. Search online real estate listings using Service Credit Union's free HomeAdvantage real estate tool to get an idea of the styles available in the area. Through HomeAdvantage, you'll also have the option to speak to a local agent who is an expert in your market of choice.
3. Know your finances.
Before you start looking for homes, it helps to get pre-approved. It can be a daunting process for new and experienced homebuyers alike, but it doesn't have to be. Taking some homebuying education classes and prepping your finances will save time and stress down the road. Do you know how much house you can afford? Order your credit report and credit score to see where you stand (and where you can make improvements by correcting errors or paying your bills on time). Locate your income documents in the form of W2s and paystubs. Having your statements handy will help make your journey less stressful. Don't forget to include savings accounts, checking accounts, 401K or IRA accounts and investment funds. Lastly, tally your available funds for your down payment and your closing costs. If all or part of your down payment funds come from a gift, make sure the generous gift-giver is prepared to write a statement saying they gifted the money to you.
4. Stay on budget.
Once you get pre-approved and know what you're likely to qualify for, it can be tempting to start looking for homes at the top of your price range, but that doesn't always make sense. Taking on a mortgage bigger than you can comfortably afford can quickly cause regret or buyer's remorse. Making a decision to push your budget to the seams doesn't allow room for home expenses such as utilities, home owners' association fees, appliances or repairs, which will all cut into your available monthly budget. Picking a house comfortably below your max point will give you long-term peace of mind knowing that you can handle what home ownership life may throw at you. Know your spending power and stick to your budget.
5. Plan for the future.
What works for you now may not work for you in the future. Look where you were 5 years ago compared to today – has life changed at all? For a house to be your perfect home, it will have to grow with you. If you're planning on having kids, you may need an extra bedroom or two. Think you might start working remotely? Start a garage band? Adopt a giant dog? Each wish list item will dictate what items should be a part of your property. Office space, a garage, a big back yard – it's all available, just talk with your HomeAdvantage agent and share your goals to help set realistic expectations.
6. Don't get hung up on the paint color.
In this market, most home buyers will need to make some sacrifices when it comes to the finer details. Don't get too hung up. Paint colors can be changed, trim and moldings may need to be updated and shag carpet is no longer a desirable design element, but none of those things are a deal breaker.
The key is looking past the exterior cosmetic blemishes to the home's bones. Making your home your own is something you can do after purchase. As we discussed in Step 4, if you leave some headroom in your budget, you can afford to change out the paint or the cabinets and really customize the home to your exact fit.
Look for a well-built home that has the space you need, some features you love, a workable layout and a space that, with some effort, can become your dream home.
7. Get to know the neighborhood.
Finding the neighborhood that fits your style is almost, if not more, important than finding the right style of home. Think of your neighborhood like you would the amenities of a hotel. If you want a hotel with a pool, you eliminate the ones from your vacation search that do not have a pool. Similarly, if you are a fitness enthusiast, choosing a property next to a gym or a great park with a walking path would make sense for you. Beyond the features of the home, look into the surrounding area; the school system, local restaurants, even the crime statistics. Using the HomeAdvantage research tool, you can see all the details of the area you are looking to buy.
We hope these tips help you navigate the journey, but remember, it still takes work, diligence and patience. Take advantage of all the tools at your disposal, stay flexible, be willing to compromise, be honest with your agent and set realistic expectations with yourself. If it doesn't feel right, trust your gut. Your perfect home might be just a few clicks away.