Beginner's Guide to Mortgages
---
What is a mortgage? Most would say it is a loan to purchase a home. That's true, but mortgages come in many flavors with different terms and conditions. It's important to understand the differences between them as you navigate the house purchase phase of your life.
Because mortgage loans come in many different terms, that means you can choose one based on your budget and the length of your loan, which affects the amount of your monthly payment.
Here are some of the most common types of mortgage loans:
Conventional/Fixed Rate Mortgage
The standard terms most homebuyers look at are what's referred to as fixed-rate mortgages, offered in a variety of terms by the number of years. The monthly payment on these types of loans won't change over the life of your loan.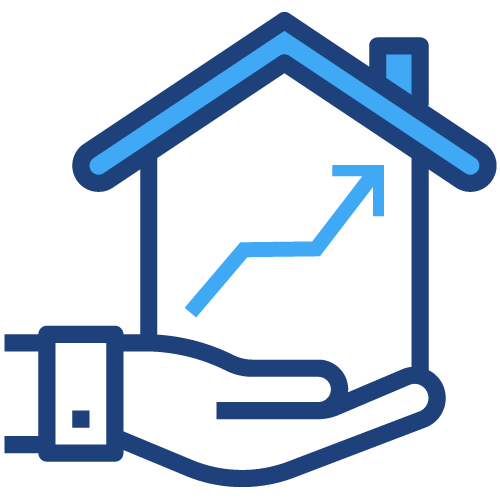 Adjustable Rate Mortgage
As implied by the name, the interest rate on these types of mortgages can change over time, reflecting changes in the economy. While this type of rate may save you money, you must also be comfortable with a certain level of risk.
Government-Insured Mortgages
Government agencies such as the U.S. Department of Agriculture, U.S. Department of Veterans Affairs, and Federal Housing Administration offer special mortgage lending programs to those who qualify: USDA Loans, VA Loans, and FHA loans, respectively. These loans may offer no to low down payment, low interest, and more relaxed credit requirements. Check-in with these individual agencies to see if you qualify.
Jumbo Loan
Jumbo loans are loans that exceed federal loan limits. According to the Federal Housing Finance Agency, the maximum conforming loan limit for single-family homes in 2019 is $484,350. Most financial institutions will require a high debt-to-income ratio and more in-depth documentation to qualify, such as demonstrating significant assets in cash or savings accounts.
First-Time Homebuyer Programs
If you are a first-time homebuyer, you may qualify for a special lower down payment or lower interest loans. Shop around to find one that may work for you, such as Service Credit Union's 0% Down Program.
These are just a few of the most common types of mortgage loans. Do your homework and look for loans that might suit your unique needs, such as a Real Estate Rehab Loan.
Mortgage Down Payment Tips
Set on your mortgage type? There are many other factors to consider when purchasing a home. Here are a few common pitfalls and tips to help you avoid them.
Prequalify
Getting prequalified for a mortgage will let you know how much a lender is willing to give you, and will help you expedite the home-buying process. Gather necessary documentation such as proof of employment, proof of income, and tax documents, and contact a lending specialist about different loan options. You'll typically end up with a letter within 24 hours that shows how much you could afford to borrow and what your interest rate could be.
Closing Costs
Remember to budget money to close your mortgage – it's a significant amount and can be as much as 2% to 5% of your loan amount. Shop around for costs included in closing such as homeowners insurance, home inspections, and title costs. Some of these costs can be deferred to the seller. You can also negotiate directly with your real estate agent to pay a portion of these fees.
Moving Expenses
Set aside funds for moving to your new property. Consider other expenses such as new furniture, light fixtures, appliances, and painting. It's easy to say you'll defer these expenses and then get into the house without a buffer to make your new home yours.
Homeowner's Insurance
Most lenders will require you to purchase homeowners insurance. Take the time to shop around and look for the best prices. Review the policies carefully and make sure you have adequate coverage for what you may need. It's easy to dismiss the need for coverage and then when something happens, not be adequately covered when there is an issue.
Negotiate, Negotiate
Don't pass up the chance to negotiate throughout the entire process. If there is something not repaired, you can ask for the repair cost (within reason) to be deducted from the sale price of the home. You can also suggest having the seller cover costs at closing. Don't fall for sellers who refuse to address the home inspection list – every seller knows their home well enough and should expect a reasonable list to address for the buyer.
House Inspection
The house inspection doesn't cover everything you would think should be covered. It's always prudent to hire your own resource to check for mold, roof damage, window conditions, appliance age, and foundation. Be on-site when the inspection occurs and ask questions – if you see something that doesn't look right, ask. The inspector will never tell you not to purchase a home, but they will submit a list of what can be repaired by the seller.
Buying What You Need Now
What are your plans for the future? Will you start a family? Have a home-based business? Host house guests? Care for an elderly parent? Think about the future and what type of space you need beyond today. Everyone has a scenario that typically requires more space in the future. Consider your needs now and what you may need in 2-3 years.
No matter what type of mortgage you go with, make sure to do lots of research and consult with a lending specialist to help make the right decision for you. Good luck!