The Benefits of a Traditional Credit Card vs. A Retail Card
---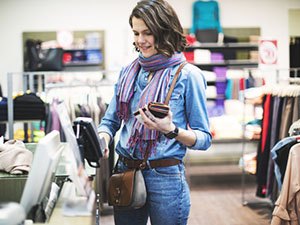 You just finished picking out a new outfit at your favorite store. You walk up to the register and pile two sweaters and a skirt on the counter and wait for the pleasant woman behind the register to tell you the total.
Without skipping a beat she says, "That will be $139.27 – Would you like to sign up for our credit card to save 40% off your purchase today?"
You pause and look at the items on the counter.
Do you really need the store card? There is more to consider than a one-time discount when opening a retail credit card. Continue reading to learn a few of the reasons to apply for a Service Credit Union credit card instead of getting a retail credit card.
Traditional Credit Cards Offer More Flexibility
Most retail credit cards can only be used at specific retailers or retail chain families. For example, a J. Crew credit card can only be used at a J. Crew store and online at their website, not for purchasing your groceries or running other errands. Traditional credit cards such as Visa, Mastercard or American Express cards can be used anywhere a credit card is accepted. You get more flexibility with a traditional card.
Retail Credit Cards May Have Higher Interest Rates
Just like a traditional credit card, you will pay interest on your retail card if you carry a balance. But, it's important to know the interest on a retail credit card is typically higher than that of a traditional card. According to the financial education blog, The Balance, "the average APR of a retail credit card is 24.43%. What's more, this rate is nearly 4% more than the average overall credit card APR of 20.82%, making those store credit cards not such a great deal, after all."
Traditional Credit Cards Have Perks
A retail card will likely only earn you rewards in the form of discounts on future purchases when you shop at the store to which the card belongs. Traditional credit cards, on the other hand, allow you to earn points on everyday purchases for items such as gas and groceries and do not limit you to one specific retailer. For example, with the Service CU Visa Signature Everyday Elite credit card, you can earn 1.5 points on every purchase and even more in certain categories.
Traditional Credit Cards May Have Higher Credit Limits
Traditional credit cards often have a higher credit limit than retail credit cards. Your credit limit is the maximum amount of credit that a lender or financial institution will allow you to spend. With a traditional credit card, you may receive a higher credit limit offering you the ability to make larger purchases and have a larger line of credit available for emergencies.
Apply for a Credit Card from Service Credit Union
At Service Credit Union, we offer several different credit card options built to accommodate your lifestyle. From the Visa Everyday Card that helps establish your credit to the Visa Signature Everyday Elite Card that allows you to maximize your rewards, we have a credit card for you.
Apply for a credit card today to start enjoying all the benefits of banking with Service Credit Union!