Tyler Kuhn Named VP-Marketing and Digital Strategy at Service Credit Union
---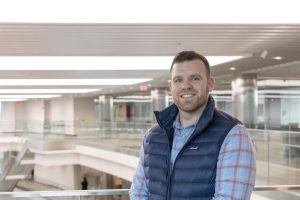 Tyler Kuhn has been named to the new role of Vice President of Marketing and Digital Strategy at Service Credit Union.
Kuhn was most recently Chief Marketing and Digital Experience Officer at Dover Federal Credit Union in Delaware, where he focused on leading marketing, community impact and development, and digital experience efforts.
This is a newly created role for the credit union, which combines the marketing team with digital strategy. "In this role, our marketing teams will be combined with our digital strategy focus to help us deliver a seamless digital member experience. Tyler brings with him experience in delivering an effortless digital experience to members around the globe, while also living out the credit union philosophy of serving the underserved in their local communities. Tyler's passion for the credit union mission is evident in his focus on community service," said Service CU President-CEO David Araujo.
Kuhn received his Bachelor's degree from Wilmington University, and was a collegiate athlete. He began his credit union career at Dover Federal Credit Union in 2016, quickly rising through the ranks from marketing clerk, to community relations officer to head of marketing and digital experience.