How Much Should You Spend on Your Home?
---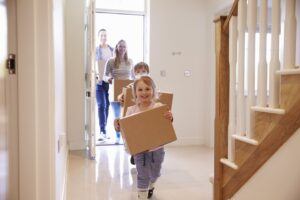 Dreaming of homeownership? Dreaming of that new home can be fun, but finding out that you can't afford it—not so much. As interest rates rise and inventory shrinks in many areas, that dream may seem even more out of reach than ever, but it's not impossible. Whether you plan to buy a home in the next few months, or further in the future, here are four steps to take before you start your search:
Evaluate Your Budget
As a general rule, your mortgage payment should not exceed 28% of your monthly take-home pay. So for every $1,000 of net income, add $280 to your max mortgage budget. Also consider if a bigger home will increase your electric bill, if a new pool will increase your water bill or house maintenance costs, and if a larger yard might require costly yard maintenance. Evaluate your current budget to ensure you have enough to cover that percentage, and think about what you can change in your life to save more. Don't forget, you'll also need to pay property taxes, so research those in your area!
Don't currently have a budget? Get on top of your finances painlessly with our free app, Service CU Fin-Life, which will help you plan for your future goals while evaluating your day to day spending, in just a few minutes a week.
Consider Your Debt
Keep in mind the 43% debt-to-income ratio rule, meaning that your monthly mortgage payment, car loans, credit card bills and utilities should not exceed 43% of your gross annual income.
If you are paying high interest rates on your auto loan, consider refinancing. High annual percentage rate (APR) on your credit cards? Consider moving your balance to a card with a lower introductory APR offer, that also rewards you.
Calculate Your Down Payment
The cash you have for a down payment will make a difference in your monthly house note. The more you put down, the lower your monthly payments will be. Don't forget to factor in closing costs, which typically range from 3 to 6% of a home's purchase price, as well as any repairs or maintenance you may need to do. Preview your monthly costs here with our online payment calculator.
Research Ways to Save
Service CU is committed to helping members make smart financial decisions, which is why we offer free access to HomeAdvantage®. Not only can you use this program to search for homes and find an agent online, but when you use one of our approved agents, you may qualify for HomeAdvantage® Cash Rewards.* Rewards equal 20% of the agent's commission, an average of $1,500 in savings per transaction!
Interested in learning more about what you can afford, as well as how to earn Cash Rewards on your dream home? Contact one of our real estate lending specialists today. Want more information before you start your search? Make sure to check out one of our free homebuying webinars!
*HomeAdvantage® is available to you through your membership with Service Credit Union. Cash Rewards are available to members who register to use HomeAdvantage® and who use a real estate agent in the HomeAdvantage® network to buy or sell their home. Using Service Credit Union for a mortgage is not a requirement to earn Cash Rewards. Cash Rewards amounts are dependent on the commissions paid to the agent. Cash rewards earned are paid out directly by HomeAdvantage® after closing. Service Credit Union has no direct involvement in this process. Cash Rewards are void where prohibited by law or the lender. Please consult with your credit union to get details that may affect you.